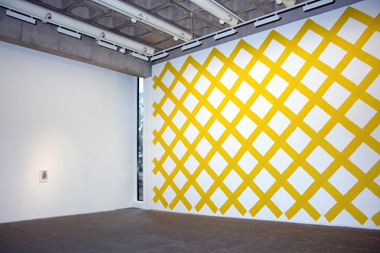 View of Douglas Hyde Gallery, Martin Creed exhibition, including Martin Creed: Work No.753, Holly, 2007 and Martin Creed: Work No.840 Emulsion on Wall, 2007; courtesy Douglas Hyde Gallery; photo: Laura McGovern
The Douglas Hyde plays host to a series of works by Martin Creed ranging from pieces made in 1986 to his most recent productions made this year. Creed, born in Wakefield, England in 1968, will be most notoriously known for his installation which earned him the Turner Prize in 2001. The piece, entitled Work No. 227 the lights going on and off (2001), consisted of a gallery room where every five seconds the lights turn themselves on and then off again. The work is the gallery space and not what appears within the space. Parallels have been drawn between Brian O'Doherty's exploration of the ideology of the gallery space and Creed's Work No. 227. Creed is seen to have placed value in how he has thought of the space itself and not just considered it as a place to display his art. 1 Pieces that were also looked at when awarding Creed the prize included his neon signs exclaiming phrases such as 'the whole world + the work = the whole world', 'don't worry' and 'small things'. Each of these pieces contains a contradiction, ie 'small things' is constructed of neon letters than occupy the height of the entire wall and runs across the width of two, whilst 'don't worry' reminds us to worry in the first place and the worry is heightened by the continual flashes of the sign. The awarding of the prize to Creed was controversial; he beat artists such as Isaac Julien and Richard Billingham. Knowing this when going into the exhibition in the Douglas Hyde, one is prepared with a sense of reservation towards the consistency of his work and its lasting impact; will it simply be the punchline with no resonance?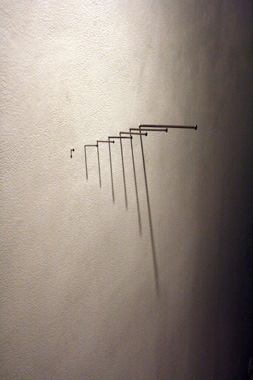 Martin Creed: Work No.701 nails, 2007, courtesy Douglas Hyde Gallery. Photo: Laura McGovern
The exhibition consists of drawings, painting and sculpture. The space is ideal for housing Creed's work; the doubleheight central space is dominated by both sculpture and painting. Creed seems to know how to use gallery space to its full advantage. We are first greeted with his Work No. 701 (2007); this consists of a series of seven nails, graduating in size and in depth as they have been driven into the gallery wall. Lit from above by a single spotlight, the shadows created too become part of the piece. This is typical Creed, playing with the minimum of materials and very ordinary, everyday objects. This approach continues elsewhere in the exhibition; Work No. 382 Highlights (2004) consists of a series of framed A4 pages coloured with highlighter pens. There are five in all, green, blue, orange, yellow and pink. The strokes are short, using the full width of the pen, and are drawn until the entire page is covered. The paper turns from paper to art to paper again; it is this play between opposites that can be found in much of Creed's artistry – the contradictions in the output which lend his work its tension and power.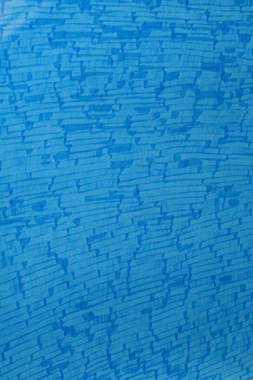 Martin Creed: Detail of Work No.382 highlights, 2004; courtesy Douglas Hyde Gallery; photo: Laura McGovern
The work on show in the Douglas Hyde is either on the large or small scale. Work No. 841 (2007) is a large stack of single sheets of plywood positioned on top of each other. The top couple of layers of plywood begin to curl; without the pressure of multiple layers upon them, they are left to behave as they normally would. The imperfection of the curling wood is perhaps the piece's 'expected' contradiction. Its scale is also worth noting as this is what first grabs your attention; it measures 8 x 4 x 8 ft.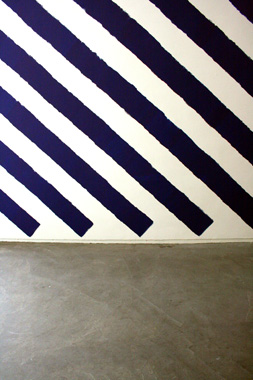 Martin Creed: Work No.843, blue emulsion on wall, 2007; courtesy Douglas Hyde Gallery; photo: Laura McGovern
The main gallery wall is covered by Work No. 840 (2007). The entire wall is taken up by the piece which is a lattice pattern painted in yellow emulsion directly on the white gallery wall. To look at this piece for a sustained amount of time is difficult. The white diamonds between the yellow begins to fill with a pale lemon colour, a sense of disorientation sets in and your gaze averts. The feeling it creates on your senses is so powerful though, that it is hard to resist and inevitably one must go back for more. Creed's approach to opposites and contradictions is again evident in this piece. The work flips between opposites, the painting itself and the 'wallness' of the piece. Work No. 843 (2007) is in a similar vein (blue diagonal strips), but lacks the impact and effect of Work No. 840 and is overshadowed as a result.
Adjacent to Work No. 840 is Work No. 753 Holly (2007), a small framed sketch of a girl in mixed media. An entire wall is dedicated to this one picture, and its intention is more interesting than the work itself. The piece jars with the minimal nature of the rest of the exhibition. It is in fact the exhibition's contradiction; every drawing medium is used in this piece, pencil, pen, crayon, ink and pastel, on top of which a healthy dusting of glitter is applied.
As part of the Martin Creed exhibition, his video piece Sick film was screened. Sick film is a twenty-one minute film showing nineteen people who walk on screen and force themselves to vomit in front of the camera. Creed said of the brief given to those who perform in front of the camera, "The script was clear; 'be sick – do whatever you need to do'." 2 Sick film has attracted a lot of public attention, and from its very notion it is clear to see why, with many finding it hard to endure. To my surprise, I found it was not the visual that tested my endurance but the audio; the visual in fact at times is remarkable beautiful. The composition of these figures against this clean white background creates a strikingly graphic image. Fascination can also be drawn from the colour, texture and volume of the sick produced. The volume grows greater as the film progresses. The audio alone though is testing; constant retching and spitting create spasms in one's own stomach. What Creed intends to achieve with this piece is unclear; it is not on the same level as other shock artists and lacks the endurance required when watching a Matthew Barney or Gaspar Noé film. In fact Sick film can be seen to be poetic.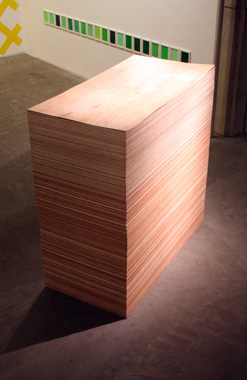 Martin Creed: Work No.841, Plywood, 2007; courtesy Douglas Hyde Gallery; photo: Laura McGovern
In all, the Douglas Hyde Gallery offers us a mixed bag of Creed's work. It is apparent from this exhibition that Creed's skill as an artist lies less with his technical ability than the boldness of his ideas. There is a charm to Creed's work that I cannot help but like. For an exhibition based on contradictions the result is a solid show that delivers strong individual pieces. Creed is bold, he is brazen, but he is also honest in his voyage around antithesis.
Laura McGovern is a photographer practising in Dublin.