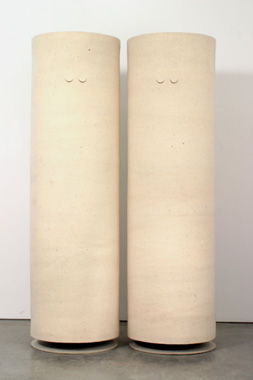 Mirosław Bałka, 2 x (60 x 62 x 200), 2 x (640 x 6 x 0,1), 2001, Steel/felt and wafer, 2 x (60 x 62 x 200), 2 x (640 x 6 x 0,1)cm, Courtesy the artist and Gladstone Gallery, New York / IMMA
The first work one encounters in the Tristes tropiques exhibition is an overhanging video screen, containing the image of some distorted signage with laughter as the soundtrack. This laughter follows you throughout the exhibition, rising and falling in a natural sequence, and colours what might have been an otherwise quite bleak exhibition. In fact, Polish artist Miroslaw Bałka's show in IMMA has the capacity for considerable bleakness. The imagery, materials and references employed here are cold and desolate – for example, the fractured political past of the artist's native Poland, or rust-covered metals, and cylinders of ash. The artist's personal history is shaped by the political restraint and religious limitations of growing up in a post-1945 Catholic Poland, and this fact is very much in evidence in the works on display. However, it is that laughter, as a precursor to the show, combined with the sudden intense awareness of one's own body in relation to the works, which suggests that beyond the bare surface is a body of meaning wrought through experience and memory.
Tristes tropiques is the title of a Claude Lévi-Strauss novel whose protagonist promotes self-awareness for the sake of societal and human progress. A walk through this exhibition certainly goes some way towards increased self-awareness: as the viewer navigates the gaps and spaces between the works, they become intensely aware of the boundaries and definitions of their own bodies – a small sculpture beside one's foot, the smell of steel mixed with soap infiltrating one's nostrils, or a speaker set beside one's ear. Bałka's works lie patiently in wait of a human figure or, in turn, mourn its very absence. The work is marked by its fortitude, but also the potential it holds for human contact.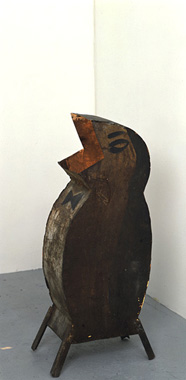 Mirosław Bałka, Penguin Lamp, 1990, Steel, electric bulb, 107 x 50 x 26cm, Courtesy Moderna Museet, Stockholm / IMMA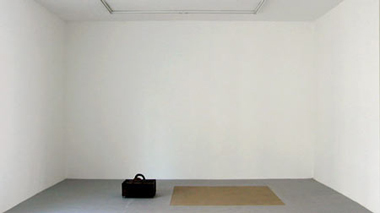 Mirosław Bałka, 2 x (55 x 23 x 27), 190 x 190 x 0,3, 1995, Steel, linoleum, PVC, ash, felt, 2 x (55 x 23 x 27)cm, 190 x 190 x 0,3cm, Courtesy the artist and Galerie Nordenhake, Berlin/Stockholm / IMMA
Industrial materials nestle comfortably here beside and around corporeal by-products: water, salt, hair and ash, the residue expelled or left behind by the body. Concrete cylinders contain mounds of salt, a rope is covered in hair, and an inset square of lino is concealed in a layer of ash. Bałka crosses the lines between life and death in coupling salt, as a life-giving substance, and ash, as the residue of death, in several works. Bałka operates within the material realms of his native Polish town, Otwock, sourcing what he uses from within 100km of his home, leading naturally to the idea that his work can be seen to contain autobiographical cultural and historic references. Bałka provides the suggestion of the body and of collective memories, in order for the viewer to provide their own personal memories to complete the works, so that, by degrees, the universal becomes private.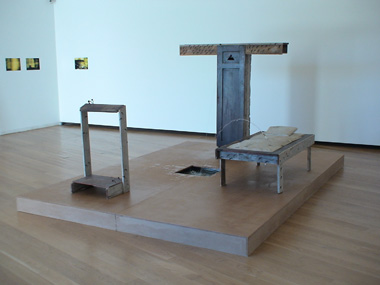 Mirosław Bałka, When you wet the bed, 1987, Wood, textile, plastic, aluminium, brass, 173 x 161 x 31cm; 152 x 80 x 50cm; 110 x 53 x 40cm, Dimensions of installation: 190 x 400 x 280cm, Courtesy the National Museum of Contemporary Art, Architecture and Design, Oslo / IMMA
One commanding work is entitled When you wet the bed, 1987; a cheerless title, at the very least. When you wet the bed is a complex installation in which a mock bedroom is set up and a stream of water emanates both from waist-level on the 'bed' and from the apex of the 'wardrobe' and finally comes to rest in a square hole in the 'floor'. At the end of the 'bedroom' platform is a lectern, facing the hole in the floor and reviving for the viewer the vulnerability of children in the presence of an authority figure, such as a teacher.
Bałka's work can surely be elegiac, austere, bare and bleak, but with some closer attention these shy yet feral works will speak out with true and sober humanity.
Salt is one of the main ingredients of Bałka's work, recurring in various forms. Concrete cylinders framing the entrance to the exhibition contain rotating plates of smooth salt, rusted steel cylinders contain salt levelled to the top, and a DVD projection, entitled 188 x 250 x 40/The Wal, 2007, shown on the furthest wall from the entrance, is a 4-minute-12-second soundless film examining the surface of salt. Like ash, water and hair, salt is a substance found naturally, but it is also emitted from the body. The smoothed, abundant salt in these pieces is the suggested residue of thousands of tears shed from a body. [ 1 ] The coupling of so much salt with industrial materials reminds the viewer of institutional oppression, but also of the bleak, heavy and efficient architecture of Communist Europe, so recently left behind. In Europe, we associate those images from 'beyond the wall' with political and cultural oppression, but Bałka reminds viewers that this visual language is still the vernacular of many Europeans, relevant not just to political history but to personal histories.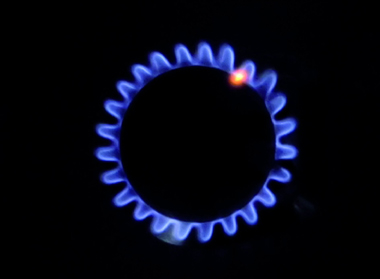 Mirosław Bałka, BlueGasEyes, (detail), 2004, Steel, salt, DVD projection, loop, sound 27min., Dimensions variable,  Courtesy the artist and Gladstone Gallery, New York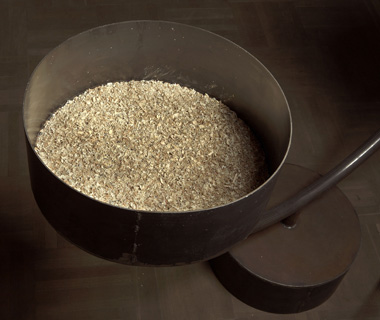 Mirosław Bałka, 215 x 135 x 60, detail, 2005, Steel, Calliphora vicina maggots, 215 x 135 x 60cm, Courtesy of the artist and Jay Jopling/White Cube, London / IMMA
The range of works exhibited by Bałka in IMMA is impressive. Each room reveals a new dimension, a new medium, a new discovery. One room contains a series of small steel sculptures, scattered it seems, on the floor and on the wall. Another room contains a DVD presentation, and in the next some part-used bars of soap are threaded onto a length of steel like a giant candy-necklace. In that last room, Hanging soap woman, 2000, is accompanied by two spirals of steel also coated and smothered in soap – 2 x (177 x 20 x 20) 9 x 9 x 3, 1997. The reek of cheap chemicals and rusted steel attacks the senses and brings to mind bathrooms, in schools and institutions where 'cheap and neglected' overrides 'comfortable' in the most basic facilities. Much like When you wet the bed, that caustic odour recalls memories of the vulnerable and unpleasant side of humanity, once again reminding viewers of the power of memory at play in Tristes tropiques .
Bałka's body of work speaks of the human condition and of all the emotions that lie within. The viewer becomes not just aware of their own fragility and equally their own mass, but of the bodies and sentiments of others. The work of Mirosław Bałka increases awareness between the Polish and Irish viewer, of both their differences and the common human experience.
Hollie Kearns
1 The reference here to salt as the residue of tears is in fact an idea put forth by Martin Herbert in 'Mirosław Bałka Dundee Contemporary Arts, Dundee, UK', 2002, Frieze Magazine, Issue 71 November-December 2002, concerning another work by Mirosław Bałka, 536 x 434 x 5 (2001); "Voicing the usually unspoken subtext of his oeuvre, 536 x 434 x 5 (2001) is a replica of the slatted, blond wood floor in the room adjacent to the gas chamber in the Majdanek concentration camp in Poland, the gaps between the planks filled with salt – the essential reduction of sweat and tears." (Herbert, 2002)