Hugh McCarthy, Charlie Doesn't Surf, 2007, mixed media on canvas, 100cm x 100cm; courtesy Stone Gallery
Hugh McCarthy's works tend to be described in terms of colour and imagery – bright and vivid, swirls and plumes – but maybe a more accurate set of adjectives can sum up his paintings: noisy, cacophonous, blustering, tumultous, rambunctious. His paintings disrupt the silence. They intrude in the most thrilling manner. They relish and revel in their own existence. Flouting the nay-sayers, the contemporary hierarchy of arts in which painting has been a victim, and flaunting those arts which have aesthetic appeal – the dreaded decorative arts. McCarthy's paintings are hybrid; they exist in the collaboration of high-art imagery and graphic-design insignia. They are Pink noise.
Pink noise is an exhibition held by the Stone Gallery, off-site at Cow's Lane, Temple Bar. It comprises seventeen paintings and three sculptures by McCarthy, two paper wall hangings by Danny Greaney, and a mixed-media collaboration between the two artists. The major aesthetic in the exhibition is clearly that of  McCarthy's, as is the predominent vein of this exhibition; however the input from Greaney quite consistently supports the work of McCarthy and complements it, in both look and thought. The two artists appear to have in common a love (or, be it, a tongue-in-cheek loathing) for the synthetic, the commercial, the superficial.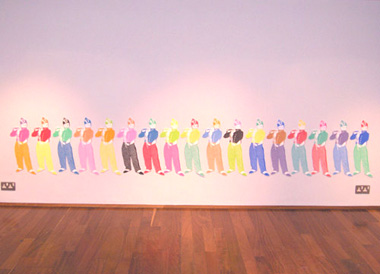 Danny Greaney, Useless beauty no.2, 2007, mixed media; courtesy Stone Gallery
Greaney uses established figurative images associated with bad taste and distorts them: flying ducks and young male pipers. Both of his paper presentations are titled Useless beauty no.2, and this title reflects both the meaninglessness of decoration and the vapid celebration of the decorative in the works of both artists. In the early seventies Robert Ballagh set out an exhibition where he employed the language of 'living room art' – images of stags, and flying porcelain ducks – to highlight the disparity between so called high-art and the imagery that the average person was exposed to. "The increasingly large demographic of the middle-class suburban dweller forms the core of conventional art audience, weekend trippers to galleries and Sunday painters," according to Sarah Browne. [ 1 ] Greaney echoes this idea in Useless beauty no.2, but enhances it in a proud and jubilant manner.
McCarthy's work is abstract: designs and illustrations, borrowed or composed from existing sources. McCarthy doesn't believe there is juxtaposition in his work. [ 2 ] His work is layered and edged and obscured by itself. The images are picture perfect, noisy, vibrant, beautiful and confident, yet every once in a while there's a leak or a run betraying the vulnerability and underlying murk beneath the surface. The colourful 'Disney' sheen veils an edgier interior, an interior wrought with tension and vulnerability, like a movie star in a tabloid, caught in tears. McCarthy himself said of the shows title, "it was more about Barbie than Freud, about consumerism and the artificial world we live in where we are sold this idea of perfection, but its not that perfect at all, its an illusion." [ 3 ] The glossy veneer belies smeared and melted edges. The cracked façade reveals its vulnerability, its imperfection. "Exuberance is tinged with the possibility of collapse." [ 4 ]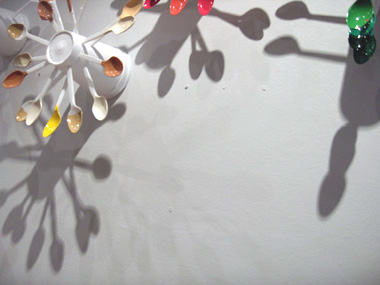 Hugh McCarthy and Danny Greaney, Son of a bleach, detail, 2007, Mixed Media Installation; courtesy of Stone Gallery
The collaboration work between McCarthy and Greany, Son of a bleach, 2007, spills from the mezzanine walls onto the main gallery floor, just as McCarthy's paint drips onto the edges of the canvas. A giant house of cards is plain white with the phrase 'Pink noise' tattooed across the pristine surface. Styrofoam-cup-and-plastic-spoon flowers are emblazoned across an adjacent wall and floor and beyond. Some brightly coloured plastic lilies descend from the ceiling. An ambiguous work, Son of a bleach combines the flavours of the two artists and their collective love of the superficial and the commercial.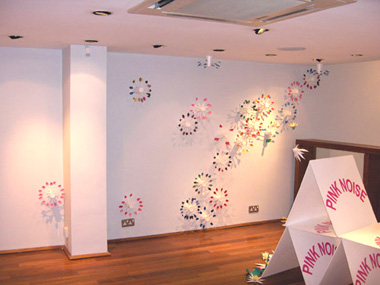 Hugh McCarthy and Danny Greaney, Son of a bleach, 2007, Mixed Media Installation; courtesy of Stone Gallery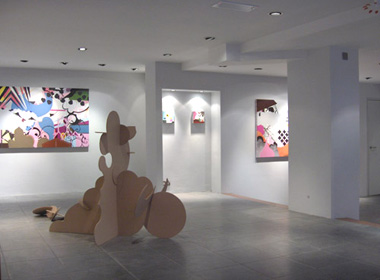 Pink Noise Installation shot; courtesy of Stone Gallery
The element of sculpture in this exhibition is a new departure for McCarthy, so used to painting. However, he insists that his sculpture is not entirely new but a growth of his painting, so that "this way the work can grow infinitely and so is more like painting for me where I can…attack spaces, as opposed to just hanging paintings on the wall, and therefore interact with the surroundings." [ 5 ]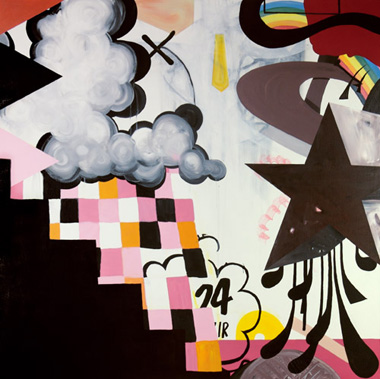 Hugh McCarthy, Hysteria, 2007, Mixed Media on Canvas, 100cm x 100cm; courtesy Stone Gallery
McCarthy's paintings are of the 'contemporary urban environment' and he surely does describe the chaos, the bright lights, the swirling sense of time, the bright and beautiful imagery tinged with the brooding of the dark clouds behind it, that is contemporary urban living. Hysteria, 2007 is a good example. Contained in this painting are hard edges – perhaps a set of stairs? – placed on top of a neon checkered grid. The number '24' is obscured by the grid, an allusion perhaps to 24 hours in a day, and the famous adage, 'the city that never sleeps'. A bright rainbow is hidden in places by deep and dark swirls and a grey-tinged cloud threatens overheard. A huge dark star abruptly juts into the canvas with a flourish.
"I try to represent this manmade world that as far as I'm concerned covers the entire planet. It's a synthetic world and the paintings could equally be about 'Toys"R"Us' and rubbish tips, which are full of perfectly good-looking microwaves etc thrown in the dump because it's easier to buy a new one than to fix that faulty cable." [ 6 ]
Despite the playfulness in the work of both artists, they also both reflect on more complex debates. They may be seen to celebrate the decorative, but these artists have both produced well considered and informed art.
Hollie Kearns is an art historian and critic.
1 Sarah Browne, 'Suburban Landscapes', p37, Circa, 109, Autumn, 2004

2 Hugh McCarthy, in conversation with Eimear McKeith, ' A short conversation with Hugh McCarthy',p11, Hugh McCarthy paintings, 2007

3 Ibid.

4 Robert Armstrong, p5, Hugh McCarthy paintings, 2007

5 Hugh McCarthy, 'A short conversation with Hugh McCarthy', op cit, p11

6 Ibid. p9