Marc Quinn: The overwhelming world of desire (paphiopedilum Winston Churchill hybrid), 2002, installation outside Tate Britain, pigment on stell, 8 metres high; photo M. Heathcode and C. Ellis; courtesy Goodwood Sculpture Park and Jay Jopling/White Cube/Tate Britain
"Step into an urban oasis at Tate Britain's spectacular summer show!" was the invitation to an unusual exhibition which is about to move on to the Ulster Museum in Belfast and then to Manchester Art Gallery. Art of the Garden showed the multiple and individual ways artists have been inspired by actual and fictitious gardens, formal and public gardens, the garden as abstract idea, a playground of colour, a backdrop for history or a private space that is part of many people's lives.
The exhibition is also part of the celebrations for the bicentenary of the Royal Horticultural Society. The artworks featured reflect this period of time: beginning with Constable and Turner, the exhibition reaches right into the present with pieces by Lucian Freud and Marc Quinn. During this time the role of the garden changed repeatedly: from a place of relaxation, cultivation and culture, to a place of imagination and retreat, to an emblem of national identity (as for example, in British inter-war landscape painting), and to a place of contemplation and philosophical reflection (for example, in Ian Hamilton Finlay's garden, Little Sparta ).
The diversity of artistic responses to the 'garden' and its varying historical roles is also mirrored in the various art forms featured at the exhibition: apart from paintings and sculptures, the visitor can find photographs, collages, different forms of installation, recordings, music, as well as delicate pencil drawings on the exhibition walls by Jacques Nimki. In order to relate the subject of the show back to its original space, even the small front garden of Tate Britain became a showground. Here, the towering steel orchid by Marc Quinn ( The overwhelming world of desire ( paphiopedilum Winston Churchill hybrid )) caught the eye of passers-by, while Susan Hiller's sound piece What every gardener knows, which is based on Mendel's Laws, was less easy to find. Graham Fagan linked exhibition space and garden in exhibiting the hybrid tea rose Where the heart is in the garden and a bronze cast of it in the gallery.
After a small introductory space, nine rooms were divided thematically into five sections: Thresholds and Prospects, The Secret Garden, Fragments and Inscriptions, Coloured Grounds and Representing and Intervening .

John Constable: Golding Constable's Flower Garden, 1815, oil on canvas, Ipswich, Museums and Galleries; image held here
The first section dealt with the physical borders of the garden space, how walls and fences define it; and with views that transcend these. The first paintings were a pair by Constable, painted from a window at his family home. The artist combined a depiction of his mother's flower garden with a view across the fence over his father's pastures and fields. Even more interesting than these very personal pictures are a group of lesser-known paintings from the inter- and post-war periods – paintings like A corner of Merton, 16 August, 1940 by Harry Bush and Bethnal Green allotment by Charles Ginner show, in the typical survey style of the time, gardens and allotments between ruins and gave them allegorical importance.

Charles Isaac Ginner: Bethnal Green allotment, oil on canvas, 1943 (?), 55 x 76 cm, Manchester Art Gallery; image held here
While the introductory text to this section mentions the importance of early eighteenth-century prospects, no further context was given, nor was this earlier concept being linked to the exhibition's selection of paintings featuring 'thresholds and prospects'. This is an unfortunate omission, which probably derives from the obvious and strained ambition to keep the emphasis on thematic arrangement. The exhibition started with Constable and ended with Freud and Hume, and yet the exhibition negated any chronology and refused contextualization. This may have been due to an attempt to facilitate understanding of the very broad subject, which would have suffered under more dates and names. But giving context and historical information would have actually helped the visitors to better understand the development of the garden and its representation in art, and not necessarily turned it into a specialised show for art historians.
The lack of historical context could also be found in the next section: a quote from Frances Hodgson Burnett's novel The Secret Garden introduced the theme of seclusion, privacy and emotion. The 'hortus conclusus' was briefly mentioned but its meaning in Christian iconography remained unexplained.
Drawings by Beatrix Potter, Cicely Mary Barker's Fairy paintings and some Pre-Raphaelite paintings represented the romantic side of this section.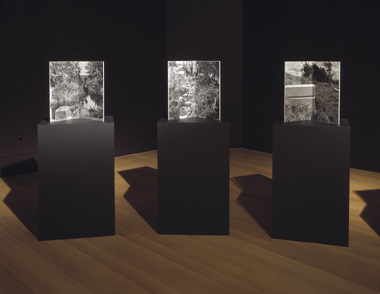 Ian Hamiliton Finlay: Nature over again after Poussin (detail), 1977, installation at Tate Britain, eleven black-and-white photographs, each in halves mounted separately in Perspex, plinths, recorded flute music, each photograph 49.5 x 29.2 cm, Scottish National Gallery of Modern Art, Edinburgh; photo M. Heathcote and C. Ellis; courtesy Tate Britain
Fragments and Inscriptions focused on gardens as embodiment of philosophical concepts, in the content and composition of the featured works. For example, Finlay's sequence of photos, Nature over again after Poussin, in which nature is arranged according to the style of eleven landscape artists (complete with their respective signatures), question the relationship between art and nature. Another work by him, Sundial: a small interruption in the light, represents a 'fragment' which is commonly found in gardens and, together with funerary urns and fragments of antique statuary, brings ideas of mortality into the garden. Surprisingly, the visitor found here a bit of information on the sundial's history, e.g., that it became popular in gardens since the sixteenth century.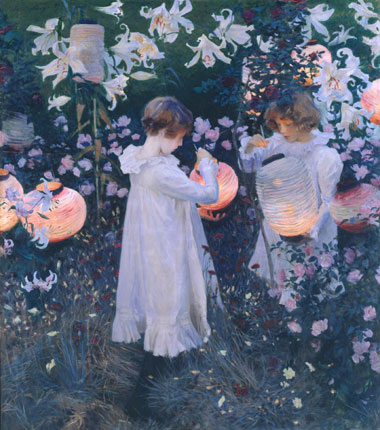 John Singer Sergeant: Carnation, Lily Lily, Rose, 1885-6, oil on canvas, 174 x 153.7 cm; courtesy Tate / Trustees of the Chantrey Bequest 1887; from the Coloured Grounds section of Art of the Garden
The fourth section, Coloured Grounds, explored the most obvious characteristic of a garden, namely being a 'living painting'. The mutual relationship between gardens that are created according to a 'picturesque' colour scheme and paintings that recreate the ephemeral colours of actual gardens was explored in a group of small-scale paintings centring on Gertrude Jekyll's famous garden. She derived her inspiration from copying Turner – as an example, her copy of his The Sun of Venice going to sea is exhibited. Jekyll's colour schemes became alive in her garden and were in turn captured in a painting by Helen Allingham.
The last section consisted nearly completely of contemporary responses to the garden as a concept. Representing and Intervening is the caption of a group of artworks which play with the images associated with gardens. Most prominently, these are cut flowers and blossoms, for example, Anya Gallaccio's floorpiece with 10,000 cut roses and the already mentioned bronze cast of a rose by Graham Fagan. In connection with Jacques Nimki's large-scale picture Florilegium, a brief explanation of the history of the florilegium was given but, it seems, more as a word explanation, not to contrast the differing interpretations of these flower albums in the seventeenth and in the twenty-first century.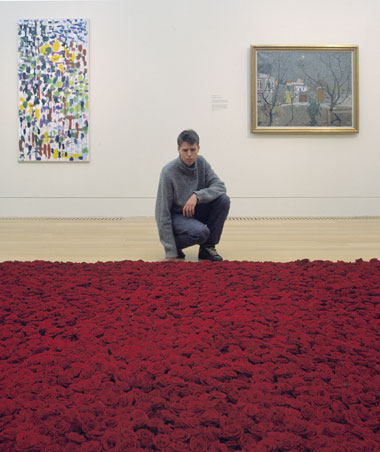 Anya Gallaccio: Red on green, 1992, 10,000 red roses, 300 x 400 cm; photo M. Heathcode and C. Ellis; courtesy James Hyman Fine Art/Tate Britain
In general, Art of the Garden was a brave and quite successful attempt to present a broad subject and the myriad different forms of artistic response. The exhibition tried to assemble for the first time material about artists' gardens, garden accessories (from William Nicholson's Miss Jekyll's gardening boots to Finlay's sundial), emotional images, horticultural knowledge in art (Hiller's attempt to make Mendel's Laws audible), the garden as a lost world (Quinn's Italian landscape, a frozen garden). To unite and order these many different works, the grouping in broad sections was required. But, unfortunately, the indecisiveness between thematic and chronological arrangement threatened to keep the exhibition on a superficial level, where the broad range of garden art is presented to the visitor but not in its historical and 'etymological' connections.
The wonderful catalogue, edited by Nicholas Alfrey, Stephen Daniels and Martin Postle, compensates only partially for this lack. Apart from the exhibited works and essays on the five sections, it contains essays on background themes (such as Country Garden, Suburban Prospects, Garden Colour, Gardens Illustrated, The Garden of England, Artists' Gardens ) which give all the information that is missing in the exhibition.
Art of the Garden will be at the Ulster Museum in Belfast from 30 October 2004 to 6 February 2005 (admission is free), and at Manchester Art Gallery from 5 March to 15 May 2005.
Johanna Roethe is a final-year student of History of Art at Trinity College, Dublin
`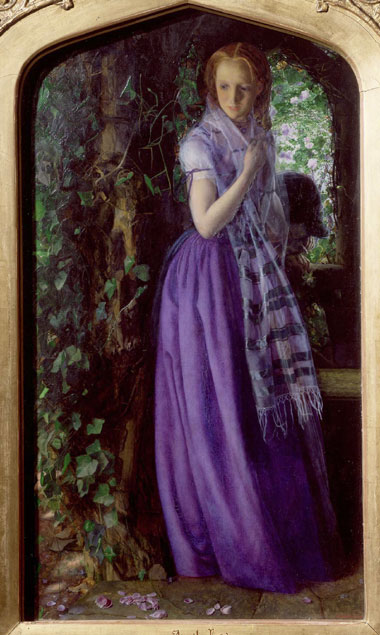 Arthur Hughes: April love, 1856 . oil on canvas; courtesy Ulster Museum