September, Green on Red Gallery, Dublin, 3 September – 2 October, 2004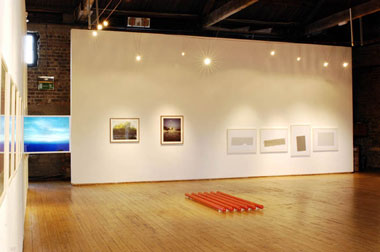 Installation shot, September ; from left to right: Mariele Neudecker: Another day – lightbox; Tom Hunter: Crows road – C-Print; Fergus Martin (foreground): Pipe Dreams 1 – plastic on car paint;Corban Walker: Untitled I to IV – AutoCad drawing; courtesy Green on Red Gallery
Group exhibitions in commercial galleries can often be quite tenuous affairs, serving merely to pad out the gallery schedule at one of the quietest times of the year. The gallery sound bite for 'September', "A month of complicated and often conflicting emotions and expectations," implies the prospect of a less than cohesive show. Ambiguous preambles aside, the individual works on show here are mostly strong and the show acquits itself well.
Of the individual works Caroline McCarthy's piece, Promise, has an impressive but not overwhelming presence in the gallery, a space well suited to installations of this type. McCarthy's works often pivot on a single, well crafted, well presented conceit. That is not to say that they are simplistic, quite the opposite. With considerable wit and without the dreaded impenetrability of much other work, they can lead the most unengaged viewer into a philosophical double-take. Promise is a micro-environment of dozens of tightly grouped plastic plant pots, the kind of faux-terracotta found in bargain stores. They are spliced with convenience-food packaging; the herb leaf adorning each meal carefully cut free from the cardboard and still attached to the box only by its stem appears to grow from the box itself. Three frosted lightbulbs nurture this domestic experiment.
There is an obvious connection that could be made with the very topical issue of genetically modified foods, which may or may not have been a consideration. The artifice of this manipulation of convenience food packaging, and the meticulous care with which the pieces are treated to create an image of fragile potential, point in a way to the inadequacies and unfulfilled desires within much modern living. Here there is something alchemical at work in McCarthy's appropriation of the mundane.
Fergus Feehily's work also embodies a certain fragility, albeit a robust one which operates on the withholding of meaning. Where the surface is so artfully stripped bare of incident, the tiniest detail of a painting becomes of critical importance. The small painting Unmade sense, which almost reveals itself upon close inspection, comprises what appear to be letters of the alphabet filled in and obscured, as though from the copybook of a bored schoolchild, making them indecipherable. The viewer strains to reconstruct meaning from these scattered devices, but this is work that is not going to be read at a glance.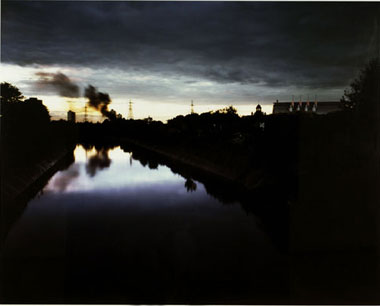 Tom Hunter: Crows road, C-Print; courtesy Green on Red Gallery
Crows road by Tom Hunter seems to set the September tone quite well. This is a large and somewhat sinister C-print. A dusky industrial suburb complete with tower blocks on the horizon seethes in the failing evening light, an ominous black cloud of smoke rising from the darkness of the canal bank in the distance. In another of Hunter's works, not in the present exhibition, a woman lies in a pond at the back of a row of houses. It is a direct reference to Ophelia by Millais. But here there is a mundanity which encroaches on the image. The suburban rooftops serve to place the image in the present and counteract any romantic notions of the aesthetic which may have been central to the original. This is not a reworking but an image with an entirely new and potent drama.
In Another day by Mariele Neudecker, light is also central. A double-sided light-box installed perpendicular to the wall shows an image of the sunset and sunrise from opposite ends of the globe. Temporality is integral to our experience of the world and by
forcing us to look from side to side of the light box Neudecker cleverly illustrates the limits of our vision and the elusive meaning which we struggle to form from our experiences.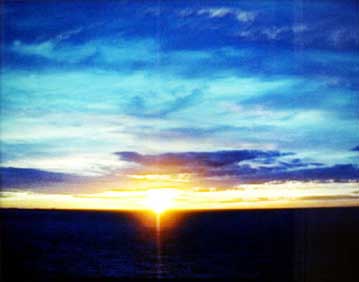 Mariele Neudecker; Another Day – Lightbox
Corban Walker's computer-aided design drawings seem to play tricks with the eyes as the finely grouped lines oscillate and shimmer. They are almost like organic architectural drawings. The effect of being installed lower than the other exhibits is a deliberate and effective strategy influence by the artist's own stature, but one gets the impression that the works could benefit from having much more space within the gallery, the allocation of space being one of the compromises of a group exhibition. Nonetheless they are clearly occupying a place outside that perceived as the traditional remit of drawing and seek to address the space they inhabit.

Corban Walker; from left to right: Untitled I (Autocad Drawing) Inkjet on paper; Untitled II (Autocad Drawing) Inkjet on paper; Untitled III (Autocad Drawing) Inkjet on paper; Untitled IV (Autocad Drawing) Inkjet on paper
John Graham's selection of colourful yet modest oil-pastel drawings contrasts strongly with the precision of Corban Walker's CAD drawings. The organic feel of these pieces is less a visual effect but rather a result of the medium itself.

John Graham; from left to right: Vero Moda (I) -wax crayon on paper; Vero Moda (II)- wax crayon on paper; Neo colour (I) – Pencil and oil pastel on paper; Remade Drawing (C) – oil pastel on paper; Remade Drawing (F) – oil pastel on paper; Remade Drawing (A) – oil pastel on paper
The band or stripe motif, so beloved of modernist rhetoric, appears again in Fergus Martin's Pipe dreams I . Six red tubes or pipes rounded and closed off at either end lie like garish oil pipelines on small, white, plastic stands. As vessels for anything, they remain sealed and redundant. Whatever they could contain as pipes is an irrelevance which we only frustrate ourselves by trying to divine. To attempt to read them in this way seems beside the point. As with so much of the rest of the work in this exhibition, it is the resistance to the end point or meaning which characterises the most interesting work being produced today.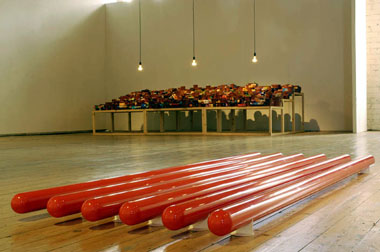 Foreground Fergus Martin – Pipe Dreams 1 – Plastic on car paint
Robbie O'Halloran is an artist based in Waterford.