Trauma can often bypass our conscious memory, our conscious process of experience. We find our narrative fractured, our inner space exposed. Seeping into our everyday experience of the symbolic order, memory becomes a kind fictionalised reality, too intense to experience directly. As we become separated from the moorings of a linear knowledge of our past, flashbacks occur; the presence of a past time stalks our current existence. Place may take on a new power, acting as a catalyst to memory and affect beyond our control.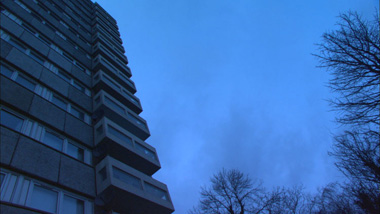 Willie Doherty: The Visitor, 2008, DVD still, video installation, DVD, colour, sound, duration 10 mins, looped; courtesy the artist/ Kerlin Gallery
The Visitor, is a recent work by Derry artist Willie Doherty created for the Douglas Hyde Gallery. In it, we see the manifestation of this kind of fractured expression of trauma through the disembodied voice and through recurring visions of urban and sylvan spaces that make up this large scale-video and sound installation. The voice of the narrator is as omnipresent as the visitor it describes, and the memories it recounts, as the camera pans across every detail of the exterior surface of a modernist apartment block in Belfast and creeps though a murky forest on the outskirts of the city. The experience of a man haunted by an elliptical figure, which emerges from his memory, his subconscious, is acting as a kind of dreaded companion. He passes through spaces that no longer exist or signify in an ordinary manner but are transfigured by the memories they conjure.
We are aware of a kind of delirium induced by this uncanny, almost supernatural encounter with a repressed memory. The voice seems to exist between worlds. The narrator is so transported by this 'visitor' that any linear sense of time and reality becomes compromised. He darts from his immediate experience to his memory, recounting details of the event that he has witnessed: the shooting of an unarmed man near a rubble barricade; his sleep disturbed by images from their collective past, this visitor is revealed to be a man that he knew well, now discernible only by a silhouette, "It was as if he was only half there."
It is within this abstraction of reality and memory that Doherty conveys a kind of metaphoric relationship with grief, trauma, and regret; known by all who are touched by them, 'the visitor' is a recurring affect personified; it is in a memory relating to an exact event, a place, and a state of mind. The visions of our memory become like surveillance footage of our actions.
Anonymous and omnipresent, the recurring footage of CCTV signage resonates with this notion of an untouchable, impartial record; its pursuit is relentless and its perpetual representations of the past are undeniable and unbearable. The narrative reveals to us the cyclical relationship between the voice and the visitor it describes; both are haunted and bound together in their powerlessness and collective experience.
Doherty's is a powerful representation of the effect of a troubled past. Filmed in and around Belfast, the subjectivity of its content cannot be overlooked, yet it bears witness to the universal response to a grief that will not pass, the potential of human memory to shape our experience of immediate reality.
Alice Rekab is a 4th year student of Art History and Fine Art at NCAD.