Culturstruction is a multi-faceted visual-arts project that took place in association with this year's IAF Open House Dublin . Culturstruction included four specially commissioned artist's projects and Cultursceenings, a series of architecturally themed artist's videos, presented in Meeting House Square. Four Irish artists, Eilís McDonald, Mary-Jo Gilligan, Jesse Jones and Padraic E Moore, responded to the architecture of Dublin city.
Jones produced Psychic architecture, a book and audio piece to be experienced in the main reading room of the National Library, Kildare Street. For his piece A Place in time, Moore designed a series of screenprinted posters that were placed in the Abbey Theatre, Liberty Hall and the Civic Offices on Wood Quay. The work of McDonald and Gilligan will be reviewed here in greater detail.

Eilís McDonald : front and back cover of Dublin City Colouring Book, 2008; image held here
McDonald produced a colouring book depicting many of Dublin's most well known architectural spaces; the book was distributed for free from Temple Bar Cultural Information Centre, Dublin City Gallery The Hugh Lane and The LAB.
McDonald's lithographic prints typify the style of the traditional colouring book; this aesthetic approach activates a sense of nostalgia and subtly gains the trust of the viewer. The architectural features depicted here are easily recognisable. Fantasy is juxtaposed with familiar urban surroundings while the artist plays on semiotics, historical truths, humour and free-association to produce a work that is at once sophisticated and accessible. The free distribution of the Dublin City colouring book was integral; this method of dissemination invites the participation of a diverse, and perhaps unsuspecting, audience. The strong interactive element of this work brings up questions about how audience engagement assumes audience responsibility: once the work passes hands from the artist to the audience, so too does the responsibility. They are invited to make of it what they will.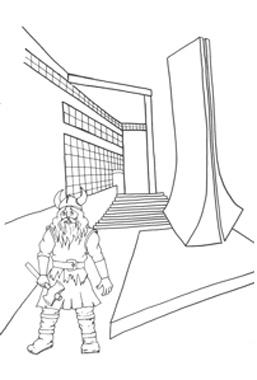 Eilís McDonald : Dublin City Colouring Book, 2008, image scanned from inside
Some memorable images include a painter poised to embark on a detailed study of the National Gallery's modernist façade; instead he opts for a child-like impression of a dog. A ballerina's upper half has been replaced by a stylish cuboid building, reminescent of the early Femme Maison ('housewife/ woman-house') works by Louise Bourgeois. The disorientated Viking at the site of the Civic Offices/ former medieval stronghold of Wood Quay remains a personal favourite.

Mary Jo Gilligan : Sensory investigation #1, 2008; image held here
A dependence on ocularcentric perception is a primary concern of Gilligan's multi-faceted practice. She has conducted extensive research into sound and language and has developed a particular interest in the science of smell, "its cultural status and its potential presence in art"(Gilligan 2008, artist's statement). As a part of Culturstruction 2008, Gilligan established a research body entitled 'Dublin City Agency for the Sensory Investigation of Constructed Space'. Tastes like Lego is the first project to be carried out by this newly formed organisation. The title of the piece relates back to the sensory development of children, more specifically, their inclination to experience everything they encounter through their mouths.
A portable documentation station was constructed on Barnado's Square, Dame Street. The station provided a space for the public to interact with and contribute to ongoing research; it also doubled as a base for a series of alternative walking tours. Tastes like Lego tours took place twice daily 16 – 19 October, with the aim of encouraging multi-sensory engagement with architecture. Spaces were limited to four per group; participants were blindfolded and assigned a guide for the duration of the event. Recent years have seen a shift from from a service-based economy to one reliant on the production and consumption of experiences. Taste like Lego is in keeping with this trend, comparable on some levels to the Dans le noir restaurant chain, where food is served in complete darkness to blindfolded customers.
The first port of call was the new City Council Offices on Dame Street. Gilligan ushered the group through the building, pausing at intervals in the foyer, stairwell and on the rooftop. A running commmentary provided by the artist was an important dimension of the experience. Gilligan spoke poetically, revealing a multitude of amazing facts about architecture and sensory perception. Intermittent periods of silence were equally vital, at which point participants were asked to focus on sensations and read the spaces intuitively. Participants were reminded again and again that "We are culturally disaccustomed to our full sensory scope…Our most constant perceptors, we are most constantly unaware of." (Gilligan)
Participants were invited to touch and smell the building, to make sounds and decipher spaces according to their the acoustic qualities. Such experiments led to interesting results: for example, there was a noticable difference in people's reactions to touching organic and inorganic matter; physical interaction with plants evoked automatic laughter.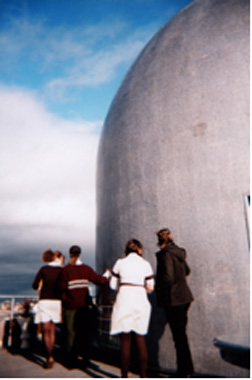 Mary Jo Gilligan : Sensory investigation #1, 2008; courtesy the artist
The tour moved back across Barnado's Square and into the contrasting environment of City Hall. The group followed their noses through the upstairs chambers, encountering leather and wood polish along the way. Last stop was the main rotunda, easily recognisable on account of the exceptional acoustic resonance and the feeling of the cool smooth stone surfaces. Blindfolds were removed and this intrepid adventure of the senses concluded with a brief tasting session, A Buffet of buildings,based on synaesthetic perception. According to surveys carried out by the artist, Francis Street tastes like thickly cut white bread while the Library Bar of the Central Hotel tastes like 'Salmiacki' sweets from Finland.
This probing work approaches the subject of perception from a broad sociological perspective and poses some pertinent questions as to why design so rarely operates beyond the realm of the visual.
Elaine Reynolds is an artist working in Dublin and Leitrim.
Links: www.maryjogilligan.wordpress.com; www.culturstruction.wordpress.com; www.eilismcdonald.com