author: Gemma Tipton
byline: Gemma Tipton is a writer on art and architecture.
venue:Visual, Carlow
dates:September 2009 – January 2010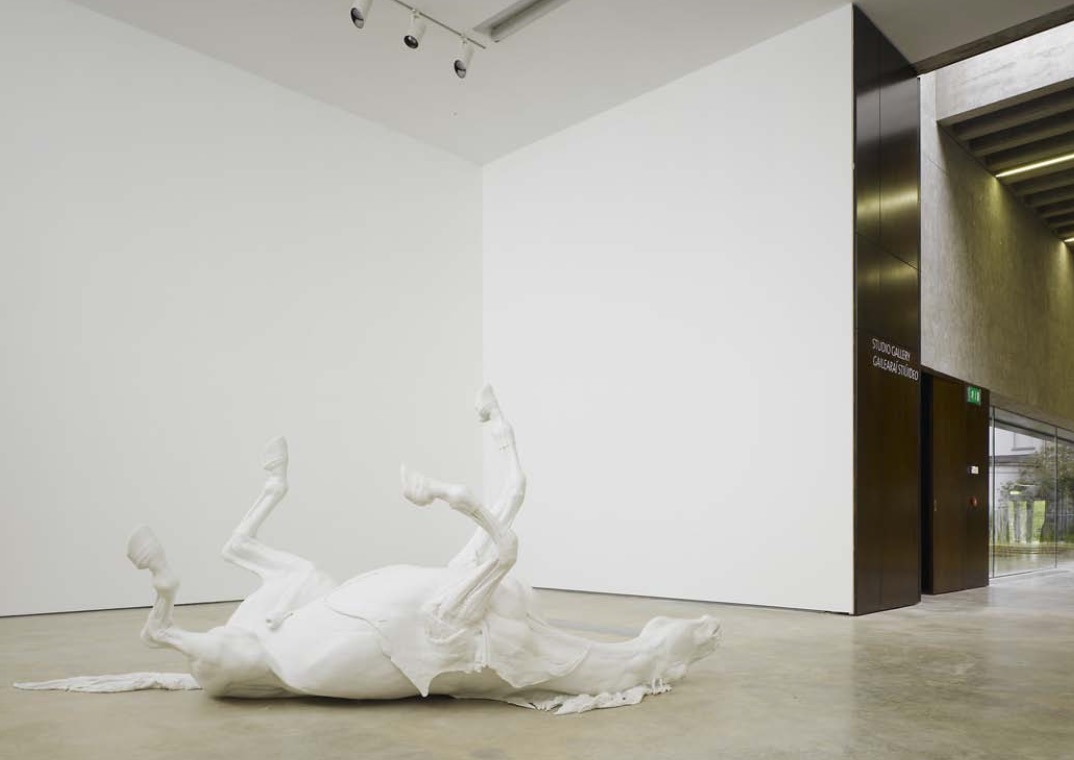 caption: Daphne Wright: Stallion (commissioned by Carlow Arts Office under the Visualise programme), 2009, installation shot, Studio Gallery, VISUAL Centre for Contemporary Art; photo Ros Kavanagh; courtesy VISUAL
Is VISUAL, the new arts centre in Carlow, complete with one of the largest contemporary galleries in Ireland, visionary? It's a cop out to say the inevitable: that time will tell whether it is a red-hot cultural magnet, redefining a town not previously famed as an epicentre for cutting-edge contemporary art, or a costly white elephant. It is also not a particularly interesting question, in that it will only be answered in detail by those who wish to be seen to have been right, though (to embrace the cop out) they may have to wait a while.1
On the opening night, there was a sense of awed astonishment, tinged (I believe) with regret in some quarters that we don't have more spaces like this. Imagine – a brand-new gallery with straight walls, with decent ceiling height, astonishingly free of architectural gimmicks, uninterrupted by picture windows and with an intelligent circulation – imagine indeed. The shame of it was that Terry Pawson's architecture made me feel like I was not only not in Carlow, but not in Ireland at all: it's 2009 and an amazing gallery space is still a surprise.
It would be unfair to imply that Carlow has no tradition of contemporary art: Eigse and Visualise have both shown and commissioned some excellent work, although both initiatives have been hampered by a lack of appropriate space for showing them – I have memories of one Eigse hastily rethought when the curator discovered that one could not drill into the walls of St Patrick's College, the designated exhibition venue. Now, there is a space to end all spaces, and the opening exhibitions have been curated to show it off to its best advantage, and rightly so.
The Weight of light, in the main gallery, is a selection of relatively minimalist pieces by Maud Cotter, Richard Gorman, Cecil King, Eilís O'Connell, Patrick Scott, Sean Shanahan, Sean Scully, Charles Tyrrell and Michael Warren. With the exception of Cotter's contribution (a modular work, which has hitherto colonised the upper floors of the Model in Sligo2), these are works that are fragile in their susceptibility to context, contingent to an extreme degree on the architecture framing them, and the proximity of the works adjacent to, and in opposition to them. Entering this space from the first opening you come to (presumably the main entrance), there is a harmony in the conversations between Gorman and Tyrrell, Shanahan and Warren. Cotter's piece gently but insistently bisects the space with a quietly belligerent presence as it spreads across the floor and reaches for but, with a genius of restraint, just shies of meeting the 12- metre ceiling. On the end wall, and roped off as if it were an altar piece (though more likely because the paint was still wet) Sean Scully's Four towers couldn't be anything but Scullys, and yet don't quite attain the singing presence of his works in the Hugh Lane Gallery, for example.
Outside the main gallery and to the right, the Link Gallery, which is essentially a wide corridor, bordered on one side by a wall of windows, showed US artist Polly Apfelbaum's 'fallen paintings'. These are strips of shining sequinned fabric, which on a winter evening were reflected in the glass, darkly mirrored, giving the gallery a weightless feel. Beyond this, the Studio Gallery held what was the best piece in the collection of exhibitions, Daphne Wright's Stallion. A Visualise commission (Visualise being the series of projects initiated by Carlow Arts Office in the leadup to VISUAL), Stallion is a death cast of a race horse, part eviscerated and following in the aesthetic and intellectual tradition of Stubbs rather than the formaldehyde gimmickry of Hirst. Here is strength, pathos, subtlety and presence, and a thousand other things that extend beyond words to make a work that touches on the sublime – in all senses of sublimity.
Upstairs, on the opening night, Amanda Coogan initiated Accumulator, a series of performances, curated by Coogan, in which each of the following artists (Neva Elliott, Declan Rooney, Ying Mei Duan, Brian Connolly, Alastair MacLennan) will use the props, and take on the resonances of their predecessors in a series which, as it concludes with MacLennan, presents an intriguing accumulation to reach an origin. Coogan's presence, arising in a golden yellow tableau of draped fabrics, was undermined slightly by a corner projection relating to the works of artists yet to come in the series. This gallery (the Digital Gallery) was bookended with works by Tadhg McSweeney and Ciarán Walsh, two installations that demanded more attention than they were ever to receive on an opening night like this.
Returning to the space again a day later, because second impressions are far more important than first, and to view the space uncrowded with opening-night revellers, and unclouded with opening night wine, there was a different feel to the exhibition. Entering by the second opening (to the right of the Scully wall), and looking at the exhibition in reverse, so to speak, the hang felt cluttered, over-populated, and the conversations between the works more like fractious arguments. I returned to look at it the 'right way round' and all was harmony again, demonstrating that despite its vaunted perfection and modernist simplicity, this is a gallery with as much contextualising personality as any space with architectural quirks to work around.
And yes, a day makes a difference: without darkness to reflect back the inky depths of the pool that lies beyond the windows of the Link Gallery, Apfelbaum's STAX was flatter and, disappointingly, nothing more than the sum of its parts. Wright's Stallion remained triumphant, and yet in this gallery too, some architectural issues emerged. A more concentrated look at the space makes you realise why so many architects fight shy of utterly pared-back Modernism – there's nowhere to hide your mistakes, and any slightly 'off' elements stand out a mile. Here the off element is the floor vents. Set asymmetrically, they offer parentheses to Stallion, and yet will make it very difficult to hang any wall-based work that has its own strong internal geometry. This is also an issue in Tate Modern, where their floor vents (of a similar character) emerge as issues during architecturally exacting exhibitions such as the Donald Judd (2004).
Upstairs, the projections in the Digital Gallery made more sense in the absence of Coogan, and took on a more appropriate role, of hinting at what was to come, while McSweeney and Walsh's installations still suffered from the weight of The Weight of light. Nonetheless, they fully repaid the time it took to see them as separate and intriguing works, where the subtleties lay not in the interplay of colour and shape, but in the kinetics of objects, and the juxtaposition of ideas. In a building where kinetics and juxtapositions are everything, the biggest sufferer was the most famous artist, Joseph Albers. A collection of prints, on tour from the Hayward, deserved and demanded more space than the foyer wall, with its almost 1970s feel, where they were hung, practically floor to ceiling. These small meditations on colour and line appeared an afterthought, hung to flesh out the opening shows with an international/ establishment dimension, but given closer attention and time, they to inspire artists to think on a scale that has been difficult in this country in the past. And the provisos above notwithstanding, the galleries are fantastic, and should be enough to draw visitors from Carlow and beyond, whatever is on display there.3
Initially, the programming will be quarterly, so the issue is, following initial curiosity, will they be able to afford to put together the kind of exhibitions that people will revealed themselves to be the work of an artist so strongly influential that to see the originals one has the oddly reversed sense of being convinced one has met them before, and that they themselves are derivative of what they subsequently inspired. There has been much talk of the bravery and vision of Carlow County Council to go through with this project, although when it was first mooted, the closure of the sugar factories might have seemed like the greatest disaster that could befall the county's economy (who could have dreamed of what was to follow, economically speaking that is?), and VISUAL is brave and it is visionary. The main gallery is huge, not – as has been reported – the largest in Ireland. Unless you add height, and go by volume, the Gallagher Gallery at the RHA has more floor space, but VISUAL is large enough travel to see? In the beginning, perhaps not, at least not on the scale to make an impact like those other 'must-travel-to' galleries away from major cities: such as MoMA when it temporarily moved to Queens, Dia:Beacon in Upstate New York, the Louisiana near Copenhagen, or – it has to be said – the Guggenheim Bilbao. VISUAL might flounder for a while, perhaps even for years (although hopefully not), like Newcastle Gateshead's Baltic, but the 'vision' part of 'visionary' lies in building for what is yet to happen; and the really visionary part of that is driving what is yet to happen by the things that you do now.

caption: VISUAL Centre for Contemporary Art and the George Bernard Shaw Theatre with a view of Eileen McDonagh's Medusa tree; photo Ros Kavanagh; courtesy VISUAL Opening exhibitions at VISUAL: The Weight of light: Maud Cotter, Richard Gorman, Cecil King, Eilís O'Connell, Patrick Scott, Sean Shanahan, Sean Scully, Charles Tyrrell, Michael Warren;
VISUAL Centre for Contemporary Art and the George Bernard Shaw Theatre with a view of Eileen McDonagh's Medusa tree; photo Ros Kavanagh; courtesy VISUAL
1 For a discussion of the genesis of Visual, including its flirtation with 'national' status, see my article 'If you build it will they come? And what will they do when they get there?', Circa 119, Spring 2007, pp 28 – 34, and online at www.recirca.com/backissues/c119/p28 _34.shtml
2 More than anything, Model Arts, Sligo, Sept – Oct 2004. Reviewed in Circa 110, by Regina Gleeson, online at www.recirca.com/backissues/c110/p88_89.shtml
3 There is also a theatre, The George Bernard Shaw Theatre, where the opening show, Johnny Patterson, the Singing Irish Clown, appears to have been designed to allay the doubts of those in the local community that this is an elitist space The continuing programme is diverse, including Handel's Alcina, Johnny McEvoy, Marie Jones' Stones in his Pockets, and Mundy.