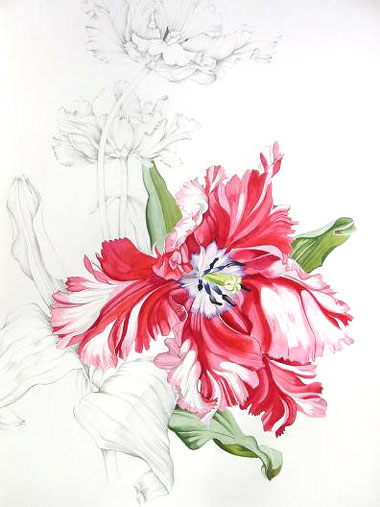 Patricia Jorgensen: Red and white parrot tulip, watercolour and pencil on paper; courtesy the author
Ireland does not appear to have a strict, continuous history in Botanical Art. Not many artists here have been truly interested in portraying flowers and other natural vegetation, according to Patricia Butler [1]. Moreover, the times of great commissions seem to be well in the past. Contrast this with the works of art by Lydia Shackleton, commissioned by Sir Frederick Moore, curator of the National Botanic Gardens in Glasnevin, Dublin, between 1887 and 1907. Shackelton's output for the Botanic Gardens amounts to over 1,500 'portraits', 1,040 of which are of orchids.
These days the National Botanic Gardens do not normally commission works of art – although Strawberry-tree by Deborah Lampkin is a recent exception. Commissioned in 1995 for the Bicentenary of the Gardens, Lampkin's painting has become part of the extensive Botanic Gardens' art collection. This collection comprises over 3,500 works of art, plants, flowers, and vegetation, mostly done in watercolour. None of them is exhibited on permanent basis, since watercolour is highly vulnerable to sunlight. Temporary exhibitions do take place, but usually in winter.
Another example of modern commissioned work is An Post's new series of stamps. Susan Sex was selected to paint Irish wildflowers and in total she painted flowers for eight new stamps. Her work was exhibited in the GPO from 9 September till 4 October 2004.
Patricia Jorgensen: Pink magnolia, watercolour and pencil on paper; courtesy the author
Most botanical painters prefer to organize their own exhibitions. Patricia Jorgensen, for example, holds biennial exhibitions of her work in her home in Dublin, a practice continued since 1996.
Some of her paintings are half sketched and half in watercolour, to give a feeling of shade and depth. "The two things are complementary," according to the artist.  "[The sketch] becomes like a shadow of the flower. It helps to hold the composition together." [2] Jorgensen aims to please the viewer rather than serve scientific analysis. According to the artist, her approach is more that of a portrait painter.



Maria Oleynik is a journalism graduate from Griffith College, Dublin.
[1] Patricia Butler, Irish Botanical Illustrator and Flower Painters, Antique Collector's Club, 2001, p. 13


[2] author's interview with the artist