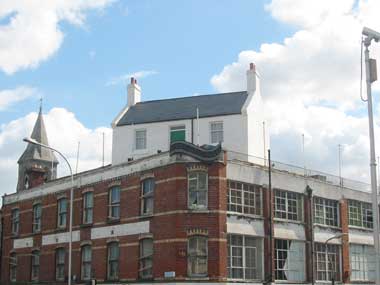 Nathan Coley: Show Home , City Arts Centre; courtesy Nathan Coley / City Arts Centre / Tony Kenny
Nathan Coley's latest work has brought the typical / mythical Irish cottage to the roof of the City Arts Centre.  A jarring meeting of rural and urban, past and present, not to mention 'real' and artificial results: for the 'show home' of the title refers not only to contemporary Ireland's ridiculously inflated property market, but also to the structure of the work itself, for it is in fact only a three-sided façade.
The 'show home' is a quaint, whitewashed cottage with a green door that could have been lifted straight off a vintage John Hinde postcard and somehow 'Photoshopped' deftly into the city's skyline.  Its fabrication with only three sides is significant, pushing the work to be read as sculpture rather than architecture: the artifice of the spectacle is evident from certain angles, revealing its own construction.  From the back it mimics the form of a billboard hoarding of the type so often used for advertising by property developers.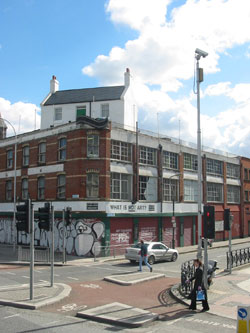 Nathan Coley: Show Home , City Arts Centre; courtesy Nathan Coley / City Arts Centre / Tony Kenny
The aspirational home evoked by the title is in this case characterised by nostalgia rather than modernity.  Show Home appears like a material manifestation of a collective emotional longing: it's the uncomfortable simulation of a home that no longer exists in today's Ireland, its physical hollowness echoing its practical impossibility.  It creates a point of visibility for ideas to do with accelerated urban development, ownership and identity, and its siting opposite Dublin's glass-and-money  financial centre, the IFSC, couldn't be more appropriate.
Show Home' s highly public and visible rendering of  the archetypal but illusory Irish cottage confers upon this work a genuine sense of public ownership and accessibility, elusive qualities too frequently absent in public artworks.  A temporary, wistful monument to public imagination, it asks more questions than it answers.  Clearly an outmoded and unrealistic ideal in today's society, how do we update this ideal for the twenty-first century? Are history and memory simply wiped clean or demolished: does the past become appropriated as kitsch or can it be integrated into a meaningful future?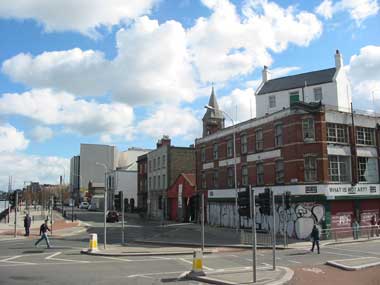 Nathan Coley: Show Home , City Arts Centre; courtesy Nathan Coley / City Arts Centre / Tony Kenny
The work is a highly appropriate final project for the City Arts Centre, and neatly punctuates the conclusion of the Civil Arts Enquiry, before the organisation itself is moved to new premises and adopts new, multiple and dispersed artistic strategies.  Located on the roof of the City Arts Centre at Moss Street, facing the IFSC and the Custom's House across the Liffey, Show Home is situated at a geographical (spatial) and historical (temporal) intersection in contemporary Ireland.  Who knows what happens next?
Sarah Browne is an artist and writer currently working on a residency and community art project at the Riverbank Arts Centre, Newbridge, Co. Kildare.
Show Home , originally commissioned by Locus+, supported in Ireland by the British Council, is presented as part of the process of the City Art's Centre Civil Arts Enquiry.