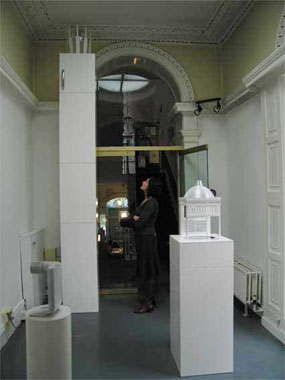 Mary-Ruth Walsh: White Goods , installation shot, The Return; courtesy the artist
Mary-Ruth Walsh is an artist and writer, recently graduated from both the National College of Art and Design, Dublin, and Goldsmiths College, London. [1] Walsh has recently exhibited at the Return Gallery in the Goethe Institut, Dublin [2] and at Sligo Art Gallery [3] . The exhibitions were respectively titled White Goods and White Goods 2 .
Both exhibitions consisted of three collaged sculptural objects. The three Dublin sculptures were all white. The three Sligo sculptures were shiny chrome and stainless steel. The objects range greatly in scale, from a ceiling-high fridge-object with an inaccessible handle to small-scale, intricate architectural models on plinths. Breaking with minimalist etiquette, the individual objects were neither titled nor untitled. The fact that they were collectively titled White Goods suggests two things: First, the exhibitions were informed by an installation aesthetic; where attention is to be placed on the work as a 'show' rather than on individual objects. Second, annexing the number two to the title of the Sligo exhibition suggests that (notwithstanding geography) the two shows were in dialogue with each other: This was evidenced by a sculptural practice that had indeed 'moved on' – from White Goods to White Goods 'with a chrome finish' – as if keeping pace with the latest consumer craze. This play on repetition parodies the seriality endemic to domestic consumerism and to the fashion of 'minimalism'. [4] As Walsh says, the Sligo show was very "nouveau Irish."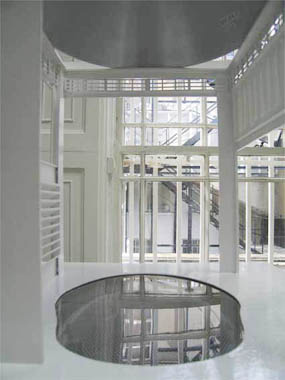 Mary-Ruth Walsh: White Goods , installation shot, The Return; courtesy the artist
Certainly, White Goods is a curious title which sets in play a metonymic chain referencing Ireland's 'bungalow blitz' mania, consumer culture and a host of art-historical references: from Martha Rosler's Semiotics of the Kitchen to Mona Hatoum's menacing domestic objects. Furthermore, the fact that Walsh's White Goods triangulate each other and the gallery spaces between them recalls the classic domestic triangle (commonly known as the housewife's treadmill) from fridge to sink to cooker. Thematically, both shows address the relation of visitors' bodies to space, to scale, to architecture (model or actual) and to domesticity.
However, an inspection of both White Goods exhibitions reveals that Walsh's objects are not the pristine commodities found in the local ESB showroom so much as objects made from recycling bric-a-brac. Demonstrating that 'one man's rubbish is another man's wealth', Walsh goes to work on discarded objects, incorporating 'readymades' into a sculptural practice formed through collage, montage, drawing and painting. In Walsh's hands a stainless-steel colander becomes a stained-glass window; bits of reassembled plumbing from the underside of a sink become a periscope; a ventilation grid and an old lampshade combine to become a small scale neoclassical architectural model. [5] Moreover, at the Return Gallery, for example, Walsh 'did a Duchamp', drawing attention to the gallery context by attaching a 1950s chrome fridge handle to what resembled a circuit-box. Only by looking more closely at the wiring and a nearby colony of little plastic boxes did one realise that the object resembling a circuit-box was in fact part of the building's electrical system.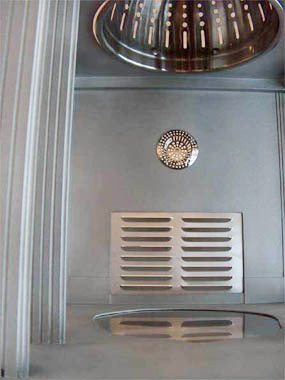 Though Walsh's sculptures were not made with either gallery in mind, their careful placing suggests that context remains important. Uncertainty about whether the space frames the objects or the objects frame the space is mirrored by uncertainties attaching to the objects themselves: All six objects (Dublin's three white sculptures, Sligo's three chromes) are mounted on plinths made of MDF (that staple of TV decorating programmes) and enamel-painted in the same colour as their sculptures. This makes it difficult to know where the plinth begins or ends. Not knowing if the plinth is to be considered as sculpture (as is the case with Brancusi, for example) heightens awareness of the perceptual, conceptual and spatial dimensions of Walsh's works.
The success of the Return Gallery exhibition rests on the fact that both artist and curator demonstrated a keen sense of the visual, played off against a phenomenological encounter with sculptural objects. This was intensified by the confined space of the Return Gallery.  Placing Walsh's all-white White Goods within a tiny white space that is no bigger than an average-size kitchen (fifteen feet, by nine feet, with a height of twelve feet) meant that visitors physically could not avoid backing into the objects (particularly when trying not to step on each other). That visitors were disorientated by these white objects, camouflaged by a brightly lit white space, surely referenced Brian O'Doherty's 'White Cube' environment in the way they interrogated the gallery space. [6] Additionally, Walsh's juxtaposition of very different scales produced an unsettling feeling, not unlike a kind of vertigo, in which the gallery space itself seemed to move. [7] This show made obvious, even to the most casual viewer, that White Goods were not placed to 'fit' their exhibition spaces, so much as to activate the spaces. The placing of the large fridge-like object next to the Return Gallery's glass door effectively decommissioned that door. This signalled to visitors not just that White Goods was concerned with the sculptural articulation of architectural space, but also that interrogating the space itself was an integral part of the exhibition.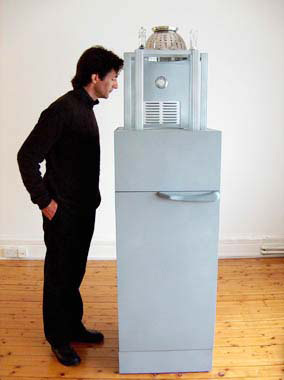 Space becomes even stranger in Walsh's film and photographic work. For the opening night at the Goethe institute, for example, the ground floor was blacked-out so that Walsh could screen 'a micro video on macro scale'. Displacing the film (also titled White Goods ) from the sculptures in the upstairs Return Gallery set up a strange architectural encounter between the two floors, especially when visitors realised that not all of the sculptural objects were quite as 'macro' as Walsh's film suggested. This interplay between two and three dimensions was further developed in the Sligo show, where Walsh photographed the insides of her chromed White Goods, mounting them on the wall next to the sculptures as if to caption them. These photographs effectively staged a double-take, where visitors had to re-register their engagement with a three-dimensional object in light of its two-dimensional representation. Through deploying film and photography (both staples of Conceptual art practice), Walsh puts paid to Frank Stella's tautological statement (a minimalist motto) that "what you see is what you see." In relation to Walsh's work, what you see is never what you see. Moreover, what you see is always compromised by an object that continually gets in your way.
Rosie Bennett lectures at Birkbeck (University of London); her research on minimalism is AHRC-funded at University College London; she has written the introduction to Richard Shiff's forthcoming book, Doubt, Routledge 2006
[1] Walsh has a forthcoming essay in the catalogue of the Patrick Ireland/Brian O'Doherty retrospective due at the Hugh Lane Gallery, 2006. She has previously published in CIRCA 104, Summer 2004, on O'Doherty's work .

[2] This exhibition was curated by Christa-Maria Lerm Hayes, author of Joyce in Art: Visual Art Inspired by James Joyce, Dublin: Lilliput Press, 2004

[3] Sligo's White Goods 2 was Walsh's contribution to an artist-curated group show supported by the Arts Council, FÁS and an Iontas Exhibition Award.

[4] See the introduction to James Myer, Minimalism: Art and Polemics in the Sixties , New Haven: Yale University Press, 2001.

[5] For Walsh's statement on the 'goings on' in her practice, see Contexts, volume 4, part 2, June 2005.

[6] In conversation, Walsh recalled the impression made on her by a Brian O'Doherty installation in which a gallery space was spliced up with rope.

[7] In conversation, Walsh has related her work to both Alice in Wonderland and Susan Stewart's theoretical work on scale. See Stewart, On Longing: Narratives of the Miniature, the Gigantic, the Souvenir, the Collection, Duke University Press, 1993.