Juan Uslé, Open Rooms , Irish Museum of Modern Art, Dublin, 8 September 2004 to 3 January 2005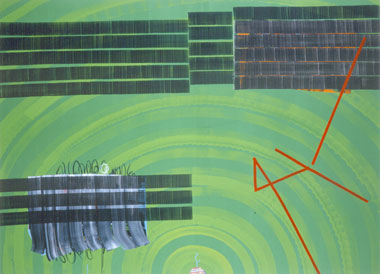 Juan Uslé, Fisuras con vértigo, 2001-02, vinyl, dispersion and dry pigments on canvas, 203 x 274 cm, Collection CAM de Arte Contempor‡neo, Alicante; courtesy IMMA
Juan Uslé's work looks like it was a lot of fun to make. One vivid colour jostles with another and fluid washes of red, green or fluorescent orange chase each other around these mostly large-scale paintings, mainly over two metres each. This is Uslé's first major museum show in Ireland.
The marks of production are barely disguised. The canvas surfaces and edges bear evidence of a frenetic but playful labour of love. Uslé's work  is certainly not methodical either in its process or, it would appear, in its conception. Looking at sketches for paintings, one sees rapid pen drawings of concepts for completed work. They resemble, in some cases, a first sketch on a napkin from a meeting between a client and an architect.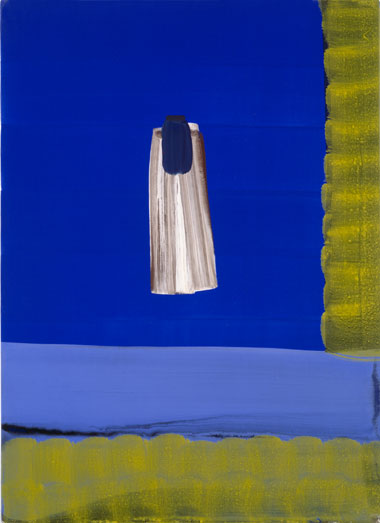 Juan Uslé, Voice, 1997, vinyl, dispersion and dry pigment on canvas, 56 x 41 cm, Collection Uslé-Civera, Saro, Courtesy Galerie Tim Van Laere, Antwerp; courtesy IMMA
Uslé gives his imagination free reign. His work changed dramatically in the early '90s after he moved to New York. Previously his work referenced landscape in a more explicit way. Having been brought up in Santander in the north of Spain, this relatively pastoral aesthetic was interrupted by the syncopated and fractured reality of New York. His work since then has not precisely been typified by the all-over approach of some process painters, but it has at least eschewed all reference to the horizon and played deliberately with the scale of the mark making. Forms and patterns float freely across the surfaces, which, along with a similarity of scale, are reminiscent of Fiona Rae. Rae however limits her colour range and the resulting surfaces display more control, with much attention being paid to the edges and the application of the paint itself. It is this seeming control that connects the generation of painters that includes Fiona Rae and Helmut Dorner.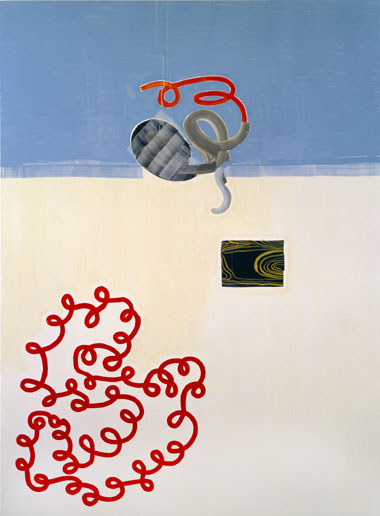 Juan Uslé, Historia con tres nudos, 1997, vinyl, dispersion and dry pigment on canvas, 274 x 203 cm, Collection Galer'a Soledad Lorenzo, Madrid; courtesy IMMA
I first saw Uslé's work in reproduction, when it began to emerge in the early '90s. It was much later before I saw it in the flesh. In reproduction the surfaces appear to glow almost iridescent, like in David Reed's work. In reality the surfaces slop and spill with a surprising amount of incidental marks, and dead colours hang ominously over glistening washes like tumours.
It has been impossible in recent times to produce work or to write about it without addressing in some way the debates that continue to dog contemporary painting. Uslé's work and that of his contemporaries appear to fly in the face of critical and theoretical assaults. But if the canvas for Uslé is "…the space of freedom…"[1], then it is a conditional one and one based on the acknowledgement of a complexity within abstraction. There is undoubtedly a certain freedom in just getting on with it, but Uslé's work is dripping in awareness.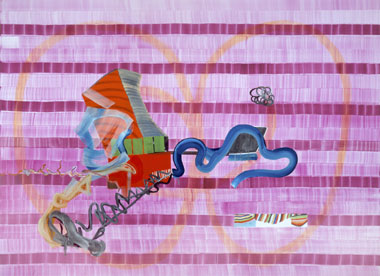 Juan Uslé, Fragmentos de Felipe IV, 2000-01, vinyl, dispersion and dry pigment on canvas, 203 x 274 cm, Private Collection, Madrid, Courtesy Marta Cervera Gallery, Madrid; courtesy IMMA
Contemporary abstraction often appears scattered and surfaces explode without a centre. The demands for conceptual rigour, which result in the work of Uslé, Dorner, Rae and others, has produced an embattled but defiant aesthetic. Never before has painting appeared so self-aware. Uslé's work may be playful and smiling on the outside but there is a serious task at hand just below the surface.
Robbie O'Halloran is an artist based in Waterford.
[1] Juan Uslé, Ojo roto, MACBA, Barcelona, 1996, p. 16