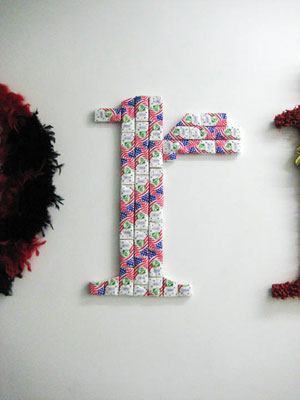 Package from China by US artist Ben Sloat is a triptych of sorts. The exhibition is comprised of three elements, a wall mounted text dominating the space, a series of Chinese factory paintings on canvas and a classic plinth with sculptural object.  The text reads 'To Get Rich Is Glorious'; it is the adage of the famous Chinese leader Deng Xiaoping (1904 – 1997), which also epitomizes the Irish experience during our own recent fling with extreme capitalism. Now, in the postconsumerist bog-mire we find ourselves in, Sloat's oversized and desirably hideous text sculpture comes across as sardonically apt and mocking.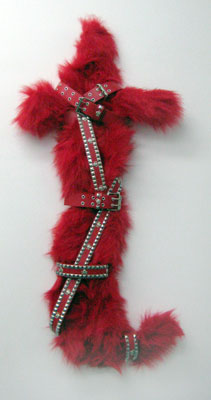 Created by assembling profuse and turgid, cheap and cheerful consumer objects (all 'made in China', I hope) into gigantic letters in the style of floral tribute funeral wreaths, he also metaphorically alludes to the death of the latest version of capitalism and get-rich-quickism we collectively embraced. There is also a sense of festivity and splurge about the text piece; its jubilant but empty celebratory colours and sparkly glitz create a certain unease and add to the irony implicit in its meaning. This exhibition, Package from China, brings to mind the work of Tom Molloy -politically astute, formally and aesthetically vivid with dark humour.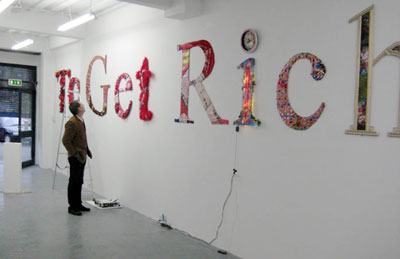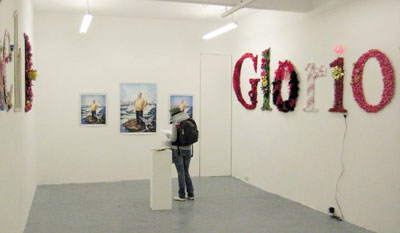 Surrounded by this textual extravagance, this dictum done to excess, is the eponymous package of the show's title, gently breathing on its modest plinth; addressee unknown but hallmarked with a set of stamps bearing Deng's heroic portrait. Is the spirit of Deng being channelled through this postal artwork? The implication is that Deng, or at least what he represents is still alive and ventilating! Further reading material on the economic situation in China during Deng's leadership of the Communist Party would have been welcome. On Wikipedia I read that Deng became a reformer who led China towards a market economy. The artists' interpretation of Chinese history and official accounts are at odds, adding a further sense of intrigue to this collection of works.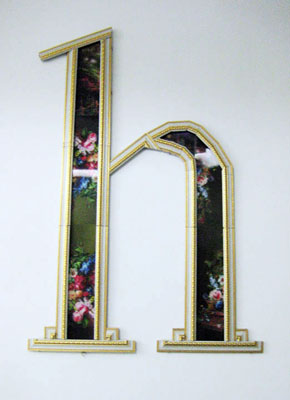 Deng in the sky, Deng by the sea and Deng in the city is a set of portraits of our hero rendered by Chinese factory painters, normally anonymous but here authorised by Sloat to sign the works giving them a collaborative role within the show. The images are repainted in duplicate and triplicate by the painters providing the opportunity to examine and understand the styles and visual languages employed by each artist. We can access the subjective interpretations each painter brings to the task, empowering the works with individuality and intelligence. Sloat adds another level of irony to the mix.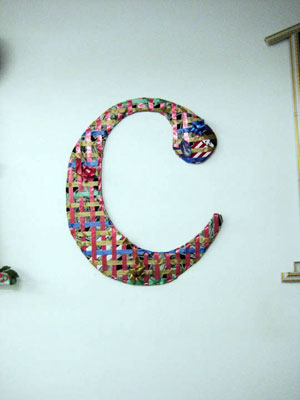 Áine Phillips is an artist based in Clare.