First appearing in 2000, the Via 2 exhibition demonstrates an approach to public art which differs radically from the high-brow, high-technology audience / artist engagement sought by something like Vectorial Elevation (reviewed here). This show is very much about what is local and familiar; the works do not reflect large budgets, and the artists are mostly still undergoing some form of education.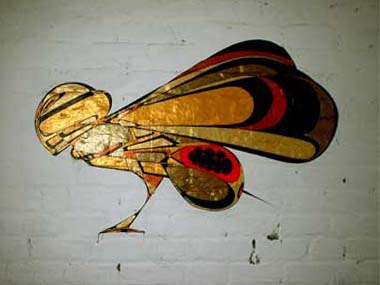 Andy Fung, detail of The elements, 2004, wall painting; photo the author
Walking along Camden Street, squinting at one's programme to uncover the locations of the artworks featured in the catalogue, there is a sense of bearing witness to the raw and the vulnerable . Without pristine white walls to protect or encode the work, it stands in relation to its surroundings with a youthful uncertainty, and is brave and sometime idealistic in its attempt to change or remark upon its location.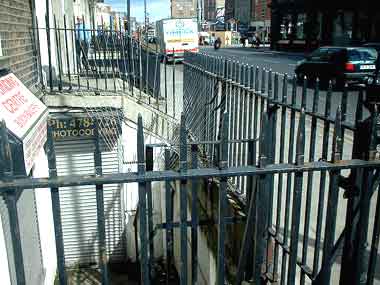 Maria McKinney, detail of Theory implicit # 2, 2004, site-specific string drawing, photo the author
The term 'site-specific' is interpreted throughout the show in a broad and investigative way. It ranges from the playful language / object tension set up between Maria McKinney's string-drawing made over a basement-located binding centre, through to sensitive and relevant sociopolitical interventions, like The international news stand, in Age Action, by Mathew Beattie and Áine Ryan. The newspaper stand features a wide range of papers from all over the world, encased in plastic wallets and available to look at (though not to take away). It apparently attracts lots of attention from local non-Nationals who are living in the area and seeking news from home; As such, it responds in part to some of the social needs of its geography.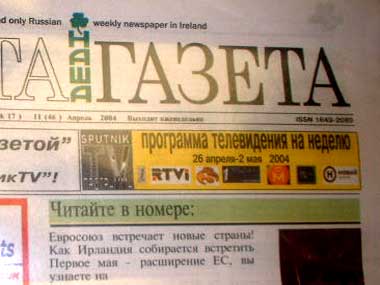 Mathew Beattie and Áine Ryan: International newspaper reading stand, 2004, wooden reading stand and international newspapers in Age Action on Camden Street, photo the author
It was with amusement that I searched for Nina Tanis' Gumshoe; this is a piece consisting of painted chewing gum on the pavement, reflecting the trend in London underground stations in the late '90s to subvert the meaning of advertisements by strategically placing chewing gum on them.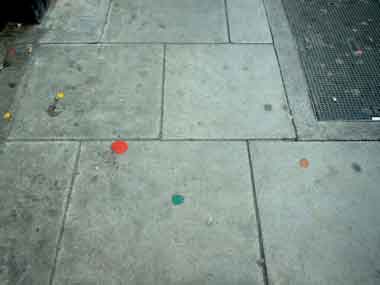 Nina Tanis: Gumshoe, 2004, painted discarded chewing gum. photo the author
This trend was dubbed Gobart by the culture-commentator section of The Big Issue newspaper. Like The Big Issue, this show reflects the keen political awareness of people bound together in a fast-dissappearing social space. Camden Street is one of the last shopping precincts in Dublin where old, boarded-up, scruffy and rundown shops exist along with neatly run family enterprises, and it is mostly uninterrupted by the chrome-effect latte bars characterising the more obvious expressions of the Celtic Tiger's cultural bent elsewhere in the city. Perhaps it is some notion of the corrupting influences of wealth to local community and culture which Glenn Loughran is referencing in his piece, Affluenza.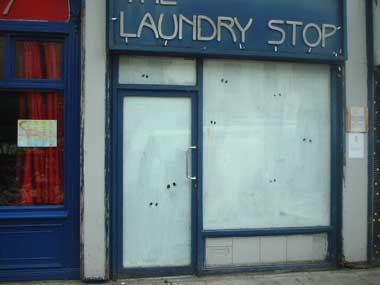 Glenn Loughran: Affluenza, 2004, installation, photo the author
It would ruin the experience of wandering around the exhibition for yourself, were I to divulge more information here. But it is worth mentioning the friendly attitudes of the shop owners who made the exhibition possible through allowing their venues to be used in this way. If you get a chance to look around, information gathered along the way will be of the informal variety; snippets of chatter with shop owners, a wide variety of colourful and honest opinions, and a bright array of visual experiences, ranging from the artworks themselves to the sensations of noisy traffic, bright street signage, and decorated thrift-store window fronts. In amidst all the sensory information present at this show, it is a testimony to many of the artists that their work can still hold its own presence and power; it is easy to identify with the figures in Susan Gogan's Untitled, who look about themselves, distracted both by the view surrounding them and the more immediately engaging objects which they hold in their hands.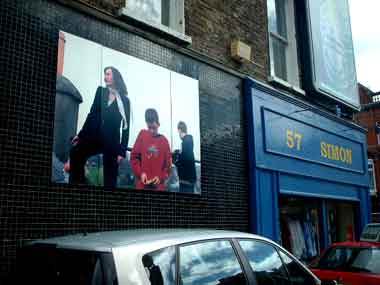 Susan Gogan: Untitled, 2004, inkjet print, photo the author
Perhaps the thing which will remain most striking in my mind is my discussion with Alan Mongey about his piece, Populoss. The idea was to situate 100 plaster figurines around and in Camden Street to "represent marginalised citizens who are looked down upon, avoided and automatically ignored." In one sense the piece has failed, because the works certainly have not conjured up the response usually reserved for the marginalised, who are generally ignored and avoided with embarrassment and a sense of social helplessness. I was told that by May 4, Mongey had already lost 160 figurines to the street; that they had taken on a talisman-like status among local gangs of children, who are now combing the streets in anticipation of collecting for themselves one of the objects.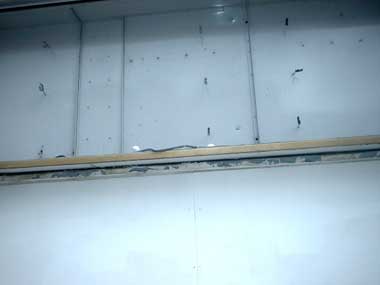 Alan Mongey: Populoss, 2004, 100 plaster figurines placed around Camden Street. In this photo, it is just possible to make out 2 of the figurines, placed high above street level; photo the author
Presumably this is either because the kids think they are very 'cool', or because, through their association with ' art', the figurines have taken on a rareified or precious quality. Either way, Mongey has been forced to position his figurines above grab-height and they are subsequently difficult to see. It is hard to know how an artwork like this lives; as a story, a narrative, an anecdote, an experiment. What is clear is that it engages everyone around it, from store owners to local children, to artists. All who I spoke with on Camden Street had a tangible sense of pride and an opinion about the various artwork in their shops and in their locality;
From the beautiful surprise caused by stumbling across Andy Fung's totally unexpected wall-paintings in an alleyway beside a coffee-shop, to the poignancy evoked by David Dunne's effective video installation, there is an earnestness and a bravery in this exhibition which engages the public through the senses, the visceral environment, and a genuine effort to articulate relevant political sentiments: If nothing else, you will at least be provoked to see Camden Street in a new light.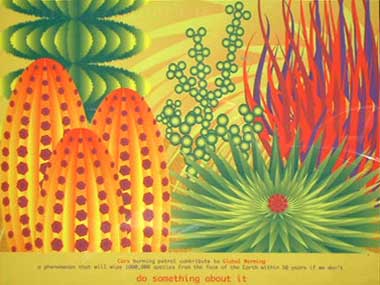 Dierdre Molloy: Untitled, 2004, digital colour photographic print, photo the author
Felicity Ford is an artist and writer based at the moment in Killiney; she is currently involved with the installation of her sound-works in the end-of-year DLIADT graduation showcase.
Via2 runs until May 22, 2004.