Under construction I is a collection of life's dreams and beauty seen through six of the best young artists working today. The artworks as presented by curator André Martens are deliberately arranged to provoke a second look from the observer. Whether it is the pieces in a state of packing and unpacking, or the seemingly casually discarded boxes and envelopes addressed to the gallery, the exhibition is true to its handle.
Under construction is at once playful, dark, inspiring, chucklesome and insightful. The viewer is encouraged to participate, and the absence of hand-holding may bother some. Martens insists that he is just presenting the works. It is left for the viewer, he tells me, to decide what meaning or worth a given work has to offer.
Stepping into Under construction feels like an invitation to be part of the process, as if you have arrived on the wrong day, at the wrong time. The sculptures, drawings and videos have been caught unawares. It is an engaging presentation and one that effectively projects the gallery's desire to "present young upcoming artists."
The smattering of sketches, drawings imbued with a child-like directness by South African-born Dineo Seshee Bopape, is perhaps the show in microcosm – a series of unsettling, joyous and raging expressions of love. An eye cast over this installation recalls honest moments found alone and rarely projected for public consumption.
Aldwin Van de Ven's condensed skyscraper flat underscores the striving for the basic requirements of love, the literal construction supporting the figurative, in no small part due to its placement alongside and in contrast with explicitly personal creations. Atop berg 1, a mountainous structure in miniature, a sheer climb is followed by a diner offering REST to those who make it that far.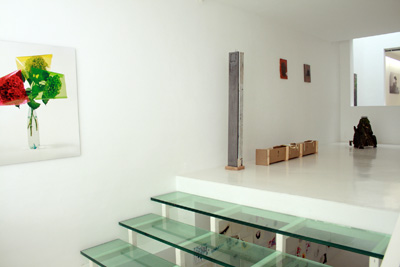 Human-made structure, our manipulation of nature and how it speaks to us carries on through Under construction with Lotte Geeven's work. A pyramid of tomatoes, A Cold, cold dish, is vibrant red and unnatural in form. Multicoloured plastic covers flowers, altering their natural state and projecting onto them encoded messages in 3 things unsaid; Geeven brings a restricted vibrancy, clipped wings, grafted onto sensibility to nature.
The sense of nature meeting and combating the human-built structure is seen again with the contrast between Lieke Snellen's Icing sugar and Frank Bruggeman's exquisite eye for greenery of all kinds, which hangs above the tower in photographic form.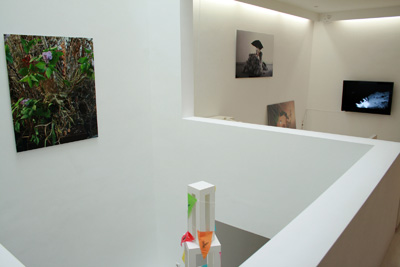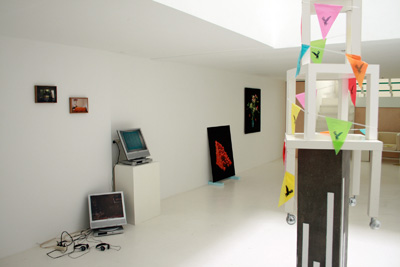 Irish artist Clodagh Emoe's intricate photographs of a life assembled through wood and bedroom mirrors recall the title of the exhibition in their structured longing for an ordered existence through aesthetic beauty. Her looping bicycle ride and a superbly flamboyant attempt to climb walls and windows bring a robust sense of both the purposefulness, which drives us up onto the ledge, and the procrastination that can stall and delay getting over. As with much of the work featured in Under Construction, Emoe's creations could be seen to be bleak. The Being in which nothing remains gives rise to a confrontation with the elegance and beauty to be found in the 'dark night of the soul': Dusk-coloured, light-smothered but still present. The never-ending circular journey of I thought of that whilst riding my bicycle (after Einstein), with its hypnotic qualities, could also encourage pessimistic thought in some. Ultimately though, in the same spirit of listening to Brian Eno's Ambient works or Susumu Yokota's beautifully layered mood-altering piano loops, the goal is to effect a change in atmosphere and for the viewer to be willing to exist in that state without an incessant need to dissect or be instructed on 'meaning'. The atmosphere the works create is similarly mood changing, open-ended and ready for interpretations or real-life applications.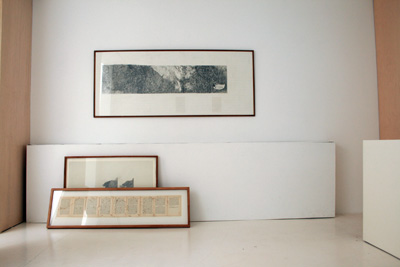 The sparse and yet restricted space of the Mart House Gallery plays to the advantage of Emoe, allowing the stark singularity of her photographic work to draw you in, as it does with the wall of drawings or the tower leading up to a forest of condensed nature. The commonality between these artists – if there needs to be one – is that all have an astute handle on creating mood and atmosphere while producing work that hangs together in that loose thematic way (should you require it) and presents an engaging, thoughts-at-the-back-of-the-mind provoking time.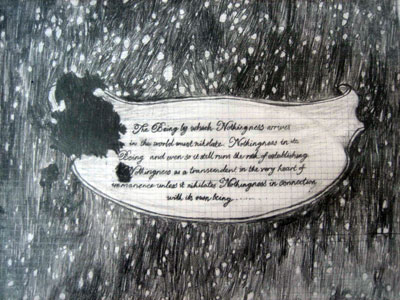 Under construction I ran 28 May – 4 June and will be returning in its second and altered form from 23 July – 15 August with Under construction II.              
Paul Casey is a freelance writer working in The Hague.