Readers of press descriptions of Thomas Brezing's recent exhibition at the RHA Ashford Gallery may be forgiven for their lack of attendance of a show which reeked of excessive parental adoration at the expense of critical interest. Brezing himself was to blame for this blunder, having produced a rather misleading press release, which highlighted the inspiration of his four-year-old daughter's utterings over his own long-term development of a socially-critical content and highly personal painting style.
The exhibition consisted of a series of nine works on paper, six small canvases and three wall-sized canvases. The strength of the show lay in the works on paper, which, rightly, dominated the RHA's catalogue. The RHA's representation of Thomas Brezing in two group exhibitions, a two-person show and this solo exhibition since 2002 reflects his steady development as an artist. Remember When We Were Older? marks a particularly significant step forward both stylistically and in its clarification of critical content. It confirms what was already slowly becoming apparent; that Brezing is becoming one of Ireland's most interesting emerging painters.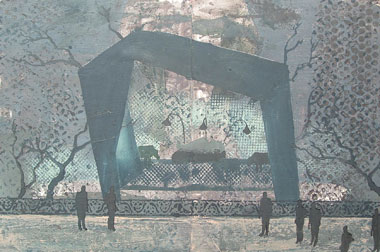 Thomas Brezing: Sometimes I doubt your commitment to 'Sparkly Motion'; 2004, oil on paper on card, 35cm x 53 cm
The works on paper are highly resolved, refreshingly simple yet weighty statements which are a sure sign not only of talent, but of artistic maturity on Brezing's part. Painted in well-diluted oils, they contain a faded Rococo palette of powder blue, icy white, sandy pinks and chocolate browns. Brezing's recent interest in the work of Michael Raedecker seems likely to have influenced this choice of subdued colour. The use of stencils to build up wall-paper-like passages of paint gives the impression of intricate collage fragments. Brezing's works on paper are unexpectedly beautiful, which lends a poignant air to their rather existentialist content. What he presents is not so much a linear narrative as an evocation of a world, suspended somewhere between a brutal post-capitalist reality and a mindscape of a skeletal polluted environment in a non-country, be it Ireland, Germany or any postindustrial 'place'.
Bystanders cluster around non-events, waiting for the opening of Lidl, or watching an acrobat or an Elvis look-alike go through the motions again and again. There are two kinds of people in Brezing's world; bystanders and performers, those who act and those who watch, yet both appear to be useless. Architecture is non-descript and transparent. Agency is removed, replaced by the subjectivity of globalised consumer, much bemoaned by Zygmunt Bauman et al. If there is any intelligence in Brezing's world it would seem to belong to animals- a lone cow, a few wolves who provide some kind of natural balance to the complete unreality of the surrounding performances and non-activity. Markings of '292 Kg' on the buttocks of the aforementioned bovines detracts from any relapse into romanticism. There is a harking back to German memories in the presence of watchtowers and sickly skeletal trees, which seem to remember the destruction of German forests and peoples. Yet there is little nostalgia as such. Even in works such as 'What if she dies like Snow White?' the sweetness of Brezing's daughter's question is juxtaposed against a world which does not care. The works are not didactically pointing to a solution but live in an uninhabitable present. As Brezing explains in the most articulate line of the press release, "It tells of people who have no-where to go, but they go there again."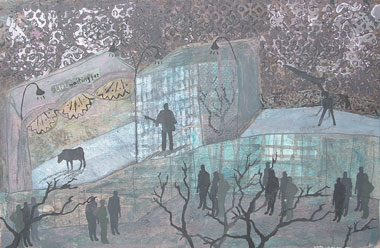 Thomas Brezing: Waiting for Lidl; oil on paper on card, 35 cm x 53 cm
The influence of Patrick Graham, which was visible in Brezing's earlier paintings, is still present in the large canvases, Pardes B and The way it did, the way it should . In many of the exhibited works, Brezing has retained his personal symbols (some rather obscure, some rather Graham-esque) such as bunting, which alternates between celebratory flags and threatening spikes, a shower-head 'tap' which can appear to water, listen, leak poison or create a phallic presence, and (circus) tents. Yet they seem to have come to fruition in these newer pieces, given their new context in paint-based as opposed to mixed-media works. In Brezing's previous work, much was lost to a somewhat cluttered presentation of numerous interesting fragments within each work. Text has become more central to the newer work, present in both English and German (the artist's mother tongue), with a mixture of personal statements, quotations from his daughter and German nursery rhymes and clichés.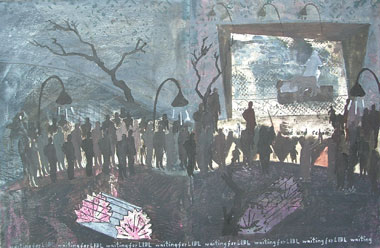 Thomas Brezing: What if she dies like Snow White?;oil on paper on card, 35 cm x 53 cm
Ireland isn't spared a specific critique, cushioned as it is in the form of a compliment (a giveaway of Brezing's integration of the Irish way of talking about things, following twelve years in this country). One small canvas depicting a wolf and a pastiche flower motif reads 'Ireland is grey, grey is beautiful, Ireland is beautiful.' The work is not without humour. Three small canvases, depicting a road to nowhere, occupied by the odd pig and shower-head, read 'The pigs are in the painting for their own protection.' – a rather polite retake on Morrissey's Meat is Murder .
Given the complexity of the work at hand, it needs to be seen in person to achieve any kind of overview. Brezing's ongoing dedication to oversized canvases sees him developing something verging on a personal history painting, albeit filled with decorative and symbolic additions, at times reminiscent of German post-war work. Anselm Kiefer is notably recalled by the impasto furrows of August bride / September groom. It will take time to bring them to the same level of resolution as the smaller works on paper. However, Brezing's dedication to painting over the past ten years promises that much will be achieved in the years to come.
Lucy Cotter is an independent art critic  and lecturer based in Amsterdam.