From the moment I read the title of the exhibition, The Idea of North, I had very definite expectations of what might be contained in the show. The notion of North conjures up images of vastness, whiteness, calmness, coldness, silence and a sense of waiting and distance. From an Irish perspective, an idea of North would draw upon a bloody palette so I was delighted to find that the artists took on a global sense of the direction and concept. The show comprises work in different styles by four artists. Curator Mark Joyce has gathered works by David Deutsch, Olav Christopher Jenssen, Mariele Neudecker and John Schabel, all exploring the concept of North.
Rather than approaching the theme from the tired angle of North as being a destination, it is refreshing to see that the theme is addressed from the perspectives of direction as opposed to destination, a sense of place rather than a physical place and a cultural accent rather than a fixed definition of the boundaries of North.
Deutsch's work is exhibited on one single wall. Six works, four paintings and two photographic images, show aerial views of domestic houses with their sheds and outhouses. Collectively these works hum a pure but desolate note. There is very little evidence of life in these images and yet the mood is not lonely. Because of the overhead perspective, there is a sense of surveying a crime scene from a helicopter. One wonders what kind of character inhabits these solitary houses. In Deutsch's work, North conjures up a distinct feeling of human distance and coldness as opposed to geographical and climatic values.

































John Schabel: from the Passenger series, 1995-2001, toned gelatin silver print, 23 X 19"; courtesy Green on Red Gallery







Schabel's Passengers series is a collection of grainy black-and-white photographs framing the curved windows on an aeroplane with their passengers inside. There has been a suggestion that in a post-September the eleventh era we read a claustrophobic meaning into, or see this kind of potential unease in such images. It's true that one could feel an air of melancholia from the people's wistful gaze out of their plane; however, the strength of North as being an escape route or an inevitable guide in any journey overcomes the current political connotations. The beads of rain on the windows further imbue the images with an element of sadness. In one of the images a little boy holds his hand up to the window in a silent farewell salutation. Being able to see my own reflection in the glass protecting the photograph, I cannot resist the temptation to reach out my hand and allow its reflection to meet the hand of the child.
When viewed collectively these images suck the viewer into a huge vacuum of silence. The interpretation of these distillations of moments in time is more about our evaluation and relation to the image than a representation of something of significance about the figure in the portrait. There is a certainty in this work that North is guidance into safe passage, but this does not explain the tense mood in the work. The artist has offered us a selection of portraits that are calm, complacent if not somewhat weary and wistful. Their eyes never meet the directional gaze of the camera lens, as they look elsewhere for inspiration or answers.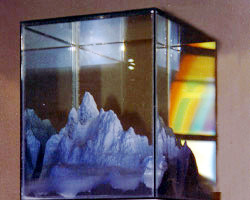 Neudecker exhibits three works, one video and two sculptural pieces. Another million days and nights go by seems to be an enlargement of a kitsch snow dome with a chunk of edgy bluish-grey mountain peaks placed into a perfectly fitting tank of water. A tiny space between the water level and the glass lid allows small oxygen bubbles to form on the solid peaks and, occasionally, one or two bubbles drift lethargically to the surface. Given the concept of infinity alluded to in the title and the steadfastness of the structure represented in the tank, there would appear to be an acknowledgement of the reassurance of the certainty of North. Come what may, north is North seems to whisper from this miniature representation of an epic landmark. Whether intentional or not, the lazy bubbles of air give a Zen-like quality to the work that places the concept of North within a vast time scale.
Waterfall consists of two videos running concurrently in two televisions placed at eye level. The right screen shows a left eye, blinking occasionally, with a reflection of a waterfall in its iris, and the left screen shows a right eye, in a slightly brighter light, also with a reflection of a waterfall in its iris. This work gravitates towards the notion of humans as having an individual internal and intuitive north. A quirky feature of this work is that if one focuses between the screens, the impression of the face is reversed, so that the eyes appear to look in the opposite direction.
Neudecker's third work, North begins inside , follows on with the idea of an emotional north. A large blue atlas has been sliced in quarters from north to south and east to west. This piece speaks of isolation. While the physical direction is clear, there is no hope of unity as the atlas and its mapping of the world has been split in four by two large chasms.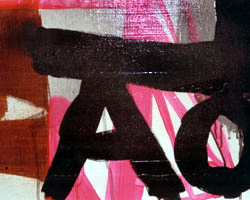 Lastly, Jenssen exhibits five evenly sized paintings. The paintings are abstract but, at the same time, lay down a code of semiotics. The mark-making involved in these works is decisive and distinguished. There is a personal language of expression in place here and, because of Jenssen's skilful mastery of brush and knife, we are afforded the opportunity to explore the visual and conceptual polarity of tone, texture, shape and mood. There is a personal language of expression in place here and, because of Jenssen's skilful mastery of brush and knife, we are afforded the opportunity to explore the visual and conceptual extremes of tone, texture, shape and mood. These works successfully convey the sense of polarity and draw the viewer into the invisible connections that, by their equal yet opposite repulsion and attraction, shape the dynamic in place in the formation of these magnetic lines of opposite extremes.
This exhibition offers a fresh examination of North and all of its many associations. Joyce has succeeded in curating an exhibition on a theme that has very loud connotations within an Irish context, without ever alluding to them. Perhaps if their had been an Irish artist added to the mix we might have been given a bitter taste of our own geographical wound. While such interpretations are both relevant and important to acknowledge, we can at times become insular and obsessed in our political focus. This exhibition is an affirmation of the sense and hope of North as opposed to the physical reality of North.
The Idea of North shows at the Green on Red gallery, Lombard Street, Dublin, until February 8, 2003
Regina Gleeson is a freelance writer on art and technology.