The Dublin Art Fair opened in the RDS on Thursday 11 September 2008, running throughout the weekend 12 – 14 September. Not to be confused with what seems to be a growing number of art fairs taking place throughout the year in the RDS including Art 08 (part of Interior Design 08 ), this fair is owned by Eriva, who also do the Cork Art Fair, Art Ireland, and the Art Ireland Spring Collection .
The Fair's organisers this year introduced a new project space into the usual cubicled art-fair configuration, called Project Platform . Project Platform was located prominently in the centre of the RDS main hall, and featured emerging artists Magnhild Opdøl, Oisín Byrne, Dáinne Níc Aoibh, Shiri Mordechay and David Tully, and Monster Truck Gallery featuring James Kirwan, Martina Cleary, Jonathan Mayhew, Mark Beatty, Julia Mac Conville, Colm Mac Athlaoich, Nina Tanis, Sheila Renick, Aileen Murphy. This new artists' project space immediately recalls similar initiatives at other art fairs, such as Projects at Frieze in London, or the Art Statements at Art Basel .
Notably, Opdøls' work featured an oozing dismembered horse's head, cased in a glass-and-wood cabinet, a stack of ripe apples and a beautifully produced bronze cast of a blow-up doll posing languidly atop. The floor in Opdøls' space was covered in synthetic white fur, which inspired several visitors to remove their shoes – whether this was with the intention of preserving the surface or experiencing the sensation underfoot wasn't clear. In the background were painstakingly rendered Disney-style wall paintings. There was the sense of sensuality, innocence and decay present in the installation, though a sense of intimacy to the encounter, which would have been welcome, was lost in the cavernous hall.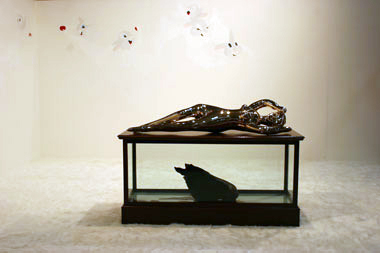 Oisín Byrne's usual phantasmogorical origami constructions were on this occasion supplemented by what seemed to be two-dimensional, flattened versions of the same, executed as a kind of geodesic wall drawing ringing the lower walls of the space. There were also accompaning video, portait and photographic works. David Tully and Shiri Mordechay's space presented a kind of post-apocalyptic vision, which was like a corporate conference caught in an atomic blast zone. Lectern, audience members and other paraphernaila seemed to be reeling from a devastating degenerative force – perhaps these two New York-based artists were presaging the current corporate and economic disasters we are all now (far too) familiar with. Dáinne Nic Aoibh's work was like a claustrophobic subterranean metropolis, with phallic constructions forming stallagtites and reflecting stallagmites in the mirror above. There was a peculiar waxy, thick odour pervading the space, which added to the closeness and tension.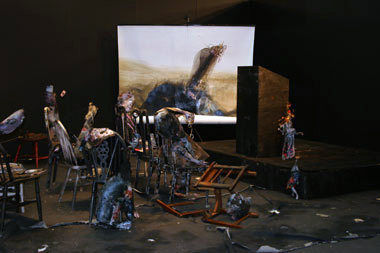 There was a definite buzz surrounding Project Platform, and it was gratifying to see a non-commercial space and emerging artists given such prominence at what is usually a commercially driven event. That said, Project Platform at Dublin Art Fair showed little consideration of the very different conditions that exhibiting project work in an art-fair environment presents, or in fact of the context at all. Rather, Project Platform was treated as a gallery space. In addition, the nature of the work in Project Platform seemed quite at odds with the mainly conservative-painting-dominated gallery booths. Compare this with Frieze Projects, where the artists selected in 08 are taking an approach that offers some investigation into the politics and peculiarities of the Frieze fair itself.
At Frieze 08 Bert Rodriguez plans to massage the feet of weary fair goers while Tue Greenfort's project is to construct a cave-like haven from the fair that visitors can retreat to – where the moisture that they give off will be extracted from the air, like an Eau de Visitor. Cory Arcangel has produced chocolate bars, which were distributed amongst the galleries that were not accepted by the Frieze committee to exhibit at the fair. Anyone who has tried to apply to Frieze (Circa included!) will be familiar with how difficult it seems to be to be accepted to exhibit.
Emulating Willy Wonka, one of Arcangels' bars contained a golden ticket, which allows the gallery who received it to take up a booth specially reserved at Frieze for the winner. The winning gallery was Studiò di Giovanna Simonetta. While institutional critique authorised by the institution itself seems fairly pointless, this is a playful look at the scramble for booths at big art fairs, the golden ticket representing access to the British public (and more importantly, collectors) over the October weekend in London.

Cory Arcangel Frieze Projects 2008 image held here
The larger question that springs to mind at this point is, why introduce artists' projects to art fairs in the first place? The obvious answer from the art-fairs' perspective would obviously be to be to draw crowds, create a spectacle, and to define the event as very contemporary and cutting-edge. And in the case of the Dublin Art Fair, to attract a specific audience of emerging artists and contemporary-art enthusiasts.
All things considered, Project Platform at the RDS seemed slightly out of place and oblivious to its surroundings, in an transitory exhibition space that this November is to play host to the motoring programme Top Gear . Nonetheless, it provided a welcome and energetic foil to the regular gallery booths, as well as an opportunity for emerging spaces and artists to experiment. It is the first year of Project Platform, so it will be interesting to see how the organisers continue to develop the idea, and the Dublin Art Fair .
Barbara Knezevic is an artist and Circa's Administrator.