Although flexible modes of living draw on an age-old tradition and a wide variety of cultures (from early European stair ladders to North African tents and nomadic tribes) recent changes in living conditions and technical advances have greatly increased the relevance of domestic flexibility. Such moves towards more flexible, sustainable or ecological models of living are manifest across Europe, particularly in Germany and Denmark, and increasingly at home in Ireland with the emergence of ecological housing developments and the organic food movement. As people increasingly become 'money rich' and 'time poor', there is an increasing preoccupation, anxiety even, with issues of life/style.
Living in Motion: Design and Architecture for Flexible Dwelling explores these contemporary developments in private and public spaces and lifestyles, examining the ways in which contemporary architects and designers have worked to adapt living environments to new, shifting boundaries of 'home' and 'work' spaces. The work on display is categorised into six sections, according to its function: Adapting, Wearing and Carrying, Transporting, Containing, Folding and Unfolding, and Assembling and Disassembling. The show represents work by modernist heavyweights such as Frank Lloyd Wright and Mies van der Rohe, right up to more contemporary designers such as Isamu Noguchi, Philipe Starck and Rem Koolhaas.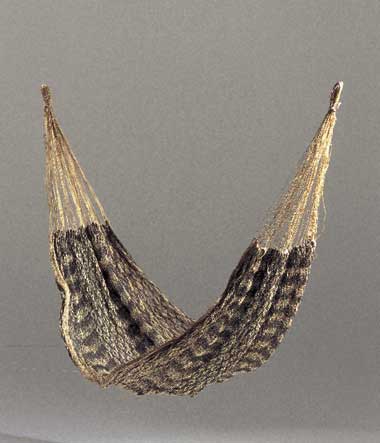 Modular furniture, folding screens, sliding-walled rooms, housing containers and other forms of movable architecture all feature in the exhibition, bringing together work that ranges from the traditional South American hammock to modern-day living pods. Some of the most interesting works on display reflect the historical lineage of mobile living environments across a range of cultures, sometimes directly tracing the indigenous roots of modernist design (for example folding screens by Charles and Ray Eames shown alongside the original East Asian screens). Some of the designs were genuinely inspiring in their simplicity, for example Vera Franke and Frank Steinert's Furniture playstation, 2000, a system of modular furniture that could be moved into various configurations (shown in the Assembling and Disassembling section). It made you wonder why don't more people actually own furniture like this, in their homes, rather than just looking at it in an art space?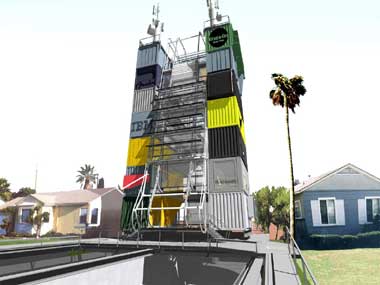 Pro/con package housing system, by Wes Jones (2000), is a work that features a video and model of an as-yet unrealised housing design solution: a system of stackable housing containers that "serve as interchangeable mobile units for housing, storage or even worship." Logos from Nike, Starbucks, IBM and Miramax adorn the sides of the containers in a sobering and disquieting vision of how to solve the housing crisis. Ironically, had the piece been presented by an artist, it would probably have been seen as evidence of a particularly dystopic vision; however, as a piece of design, it operates as a genuine and workable possibility. The face mask, shown in the Wearing and Carrying section (reminiscent of those seen in Asia during the SARS crisis) was another work that functioned as a reminder of the unwitting social commentary design objects can make about the particular problems and anxieties of the time.
NhEW PAD (Northsouth east west – personal aAdaptable dwelling), 2001, is a work by OPEN Office/ cOPENhagen Office. The project combines architecture and furnishings in a minimal one-room living space that packs up for transport in a crate sized approximately 1.5 cubic metres. The components are custom-selected by the buyer beforehand, offering a genuine opportunity to its owner to 'pack it in' and 'get away from it all'. This work is uncannily similar in spirit to that of artists such as Andrea Zittel (e.g. the A-Z living units, 2001) and Atelier van Lieshout ( Pioneer set, 2001) which explore similar escapist ideas through practical means.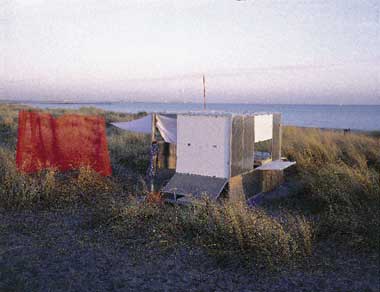 The exhibition (unconsciously?) marks the continuing cultural erosion between marcated territories of 'fine art' and design/architecture, and the general messiness of the mass culture/'high culture' divide. Artists such as Andrea Zittel, Jorge Pardo, Atelier van Lieshout and Mick O'Kelly represent a growing number of contemporary artists who choose to use a language of (fully functional) design and technology. This trend could be seen as a strategy for making artwork that deals with themes of the body and the built environment, or the body in society that attempts to challenge social realities beyond mere commentary in a fine art context. Likewise, the exhibition also points to the social importance of design products beyond mere commodities. The relevance of this exhibition in the current cultural and social climate is undeniable: without taking up the problematic fine art/design or high/popular culture divide, it is clear to everyone that housing and planning problems and poverty are but two areas of contemporary lifestyle currently in crisis.
Unfortunately, however, the siting of proposed design solutions to these problems in an 'art' space seemed to distance many viewers from its relevance importance: it was difficult not to notice the many people who approached the work as if it were a painting that would speak to them, or offer some purely aesthetic pleasure. Ironically, many others gave the work very little attention, the work probably offering little of the 'viewing pleasure' some associate with art galleries and museums. The collapse of art into mass culture is a debate for another time, but it's more than a pity that the siting of such important work within an art institution such as IMMA should render it inaccessible, or worse, irrlevant, in some way.
Sarah Browne is an artist and writer currently based in Dublin.
Living in Motion: Design and Architecture for Flexible Dwelling, IMMA, 29 October to January 4 2004. Exhibition organised by the vitra Design Museum, Weil am Rein, Germany.