This is the sixth of our online reviews – intended specifically for recirca.com.

Damien Coyle, Vessel of a Journeyman, 2002, oil on canvas,

3000mm x 3000mm; courtesy the author
"I am an eclectic person."  This is how the Northern Ireland painter Damien Coyle chooses to define himself.  His exhibition Art for dyslexics ran from 10 January until 8 February at the Old Museum Arts Centre, Belfast. It was his third at this venue.
Born in Ardboe, Co. Tyrone, Coyle has enjoyed a rich and varied career to date.  Graduating in Fine Art from the University of Ulster in 1981, he made his début in the artistic world as an administrator at the Queen's Street Studio. These studios were established in Belfast in 1984 by a collective of UU graduates as a facility for emerging artistic talent.
Working as exhibitions organiser at the Studio allowed him time for his own creative work.  During this early period of his career he exhibited in numerous galleries throughout the UK as well as in New York, Toronto, Amsterdam and Paris.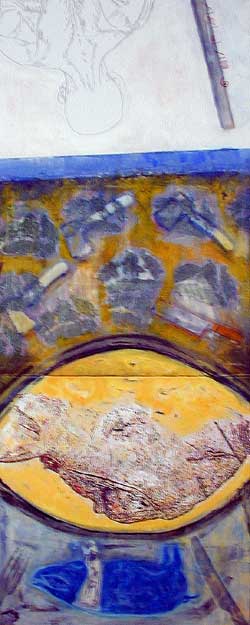 Damien Coyle, Killing of Pigs, 2002,

oil on canvas, 2500mm x 2500mm;

courtesy the author
In addition to his administrative and creative activities, Coyle, inspired by the German painter Joseph Beuys, felt the necessity to work with ordinary people to help them discover the arts.  In the late eighties, he initiated a Belfast-based project in which disabled people were encouraged to paint murals in the city centre.
I was very interested in the idea of making art accessible for everyone…I trained people who had never been involved in a project before…working with the disabled…also with children in schools.
He thus popularised art and refused to confine himself to the notion of 'pure' artistic creation, stating, "I don't want to be isolated from reality."

Damien Coyle, Inheritance, 2002, oil on paper,

3000mm x 3000mm; courtesy the author
His work is haunted by personal trauma.  Grief and loss are often represented in his painting. Coyle has been particularly affected by the death of two close relatives. When he was three years old, his father died. As an adult, he lost his own son prematurely.  Through the series of paintings titled Ghost, he explores nostalgia and painful memories of what has gone forever. Ghost shoes shows a pair of child's bootees bathed in a muffled blue background. For the artist, "it is about the relationship between the parents and the mortality of their child."
This preoccupation with memory could also be interpreted as the artist's recognition of his incapacity to restore, in his painting, the full reality of what has been irretrievably lost.  And this is the reason why he describes what the artist brings to his work as "post-memory."  He explains his memory of his father's death as "an adult interpretation of a child's memories."  In the same way, the portrayal of hands and arms in Coyle's work (Ghost hands) is especially meaningful: "About ten years ago I nearly lost my arms…it was a near-death experience as well."
These traumatic experiences are linked with his personal life but also, in a broader sense, with the history of his native Northern Ireland:  "The Troubles have been reflected in my work…they had an influence on who I am and they made me who I am."

Damien Coyle, Moonlight over Ardboe, 2002, oil on canvas,

2500mm x 2500mm; courtesy the author
How better to appreciate the Coyle's work than by considering his painting Moonlight over Ardboe?  In it we can see stark contrasts between the rural and industrial worlds, the latter seen as a product primarily of British politics.  The painting is essentially about uprooting from the countryside where the artist lived –  hence the visual reference to the garden and the image of the adjustable wrench as a symbol of industrial expansion.
From another perspective, the painting is a testimony to the British presence in the country.  This is represented by the English crown (seen at the bottom of the picture), adopted as an emblem of the police.  It can also be interpreted as a reference to the Irish youth who join the British forces during World War I despite the deterioration in relations between the two countries. It was the only way for many of them to earn money during this period. Coyle also refers back to an earlier historical event in the picture, the Irish emigration to America at the end of the nineteenth century as a result of the Famine.  At the top of the painting we see a large cow, divided into cuts of meat.  The animal is in the shape of North America.  The cuts of meat represent the various states.
Working exclusively in oils, Coyle exploits numerous techniques to produce a variety of styles.  At times he uses stencilling and makes the main subject disappear into the background (Ghost cow).  His painting style is decisive and he gives us a realistic representation of objects.  He experiments with various techniques as narrative processes: "I work on the surface…I do in painting what a storyteller does in writing."
He has drawn inspiration from many artists – Marc Chagall, the Japanese watercolorists and Juan Miró among others.  "I use influences from the history of art for my own purpose and I have no guilt about it."   He mixes lively colours like his bright yellow (Ghost hands) and his deep blue (One short of Apocalypse) –  "The blue, yellow and white are the colours I work with."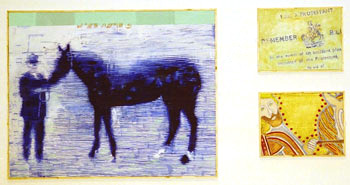 Damien Coyle, One short of an Apocalypse, 2002, oil on canvas,

(Triptych) 5ft x 4ft + 2 x 400mm x 600mm; courtesy the author
More unsettling is his work on objects.  Having absorbed their symbolic meanings, he paints them as if using a code or personal language. The canvas  Strange bedfellows  shows a fork lying across a pair of scissors. For Coyle, this symbolises sexual, religious and cultural influences.  He uses the objects to express the differences between human beings, at the same time showing how they complement each other.
His depiction of parts of the human anatomy –  hands, arms –  also conveys universal messages.  These are shown stripped down to the basics, suggestive of the anatomical models used in medical schools (Killing pigs).  The hands of Ghost hands  symbolise, for Coyle, innocence, and seem to speak for him:  "The hands are empty, no weapons in them…I use the gestures of hands to relay messages, a little bit like sign language."
He explains the creative process: "A man from behind is more vulnerable.  It is the symbol of the human being's vulnerability." (See Killing of pigs.)  He insists on preserving the anonymity of the model, claiming, "We don't mind if it [an anatomical model used in medical school] belonged to somebody, it is just a figure."
Coyle also loves to play with words in his paintings, at times incorporating English, Gaelic and Chinese. He sometimes resorts to the ancient symbols of Ogham and to the spiral, symbol of life (see Vessel of a journeyman). Images of animals send out positive messages (see One short of apocalypse). Cattle are a "transcultural symbol."
Coyle, employing a range of symbols, works from his own life experience and from the collective memory of the Irish people.  All of this constitutes his "personal mythology."  Speaking of life in Belfast, his overall feeling is that, over the past seven years, it has undoubtedly improved.  But, he confesses, "People think about the Troubles in Belfast in the background… People don't forget, people won't forget."
Sibylle Guipaud is a native of Toulouse and is currently working as a French assistant at three schools in Belfast; she has a Masters in Cultural History from the University of Toulouse, and plans to pursue a career in journalism back in France.
Damien Coyle: Art for dyslexics, January/February 2003, Old Museum Arts Centre, Belfast