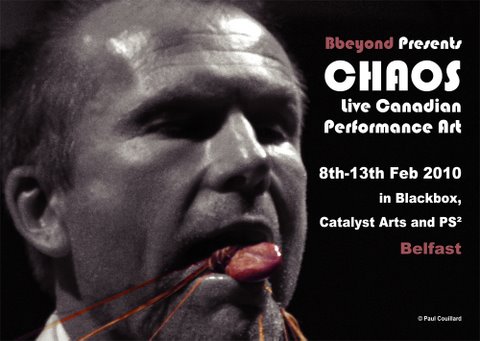 Figure 1: Paul Couillard: image on poster for
CHAOS
; photo Jordan Hutchings; courtesy CHAOS
Ten Canadian artists, from Vancouver, Toronto and Montreal, performed each at one of the following sites: PS2, Catalyst Arts Gallery, Black Box, in the Glass Box at the University of Ulster, and on the streets of Belfast. Curated for Bbeyond by Sinead O'Donnell, Judith Price and John G Boehme, the event was a welcome addition to the Belfast art scene. Bbeyond not only brings in visitors from various countries, it also cultivates frequent workshops, meetings, and events for the enthusiastic home-grown young generation of performance artists who are, increasingly, being invited to take part in international festivals. The value of such activities comes into poignant focus, in relation to Poshya Kakl, a young Kurd from Iraq who could not travel to Belfast to perform in person when the authorities refused to grant her a visa. She turned that experience into a performance (
Hopscotch
) in front of the parliament in Iraq. The video documents of her recent performances received a screening in PS2. Her action at an entrance to a mosque in Iraq, playing a mouth organ dressed in red, filmed by a hidden camera, challenged Iraqi men's privileged status. Her contribution to
Chaos
was the only one that honoured the name of political art. The audience in Black Box later carried cards with her name in her honour. (
Fig 2
)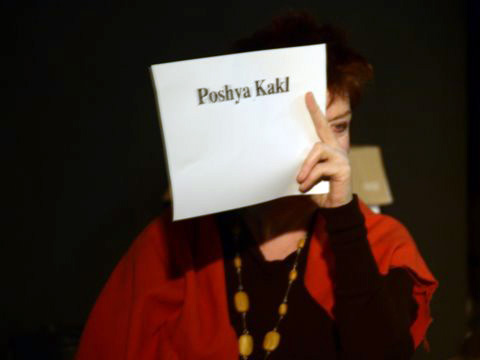 Any embodied knowledge acquired by imitation involves changes and behaviour patterns that hesitate to fall into a system. Voices, poses, and gestures propel the narrative towards the context privileged by the artists' intention. That intention fuses the time slot, site/ space, and interaction with the audience into a temporary context, or contexts. The imagined translates into the perceivable more often than not by producing a particularly foggy context of 'being–with', which charms the real and the present with a power of premeditated mood. A performance thus exposes its 'naked existence' before it exposes its political, judicial, moral and artistic values. Consequently, the artist's intention and the viewer's perception of values act, respectively, as a past and a future of a performance, as a script and as a trace. Only the 'being-with' approximates the 'naked existence' of the performance. It is thus not a satisfactory condition that I have not seen all the performances in situ. Instead, I work from primary sources: two disks with stills, eight video recordings and few random discussions with participants. As a trained historian, I feel comfortable with the demands of interpreting incomplete sources. Moreover, given the way performance art is delivered to a public, even as a viewer in a room, I would have an incomplete perception of the action. Depending on the quality of sound, of the lighting, my distance from the performer, and my viewing angle, I could see less than does the lens of the camera, often given a privileged position.
I recognise that the absence of my sensing the energy of the interaction in situ deforms my observation and discrimination, particularly in relation to the impact on the viewers.
I could see on the video tape that Irene Loughlin's episodic structure increasingly lost the attention of many in the audience, whereas the same fragmentary process used by Shannon Cochrane, kept the audience engaged.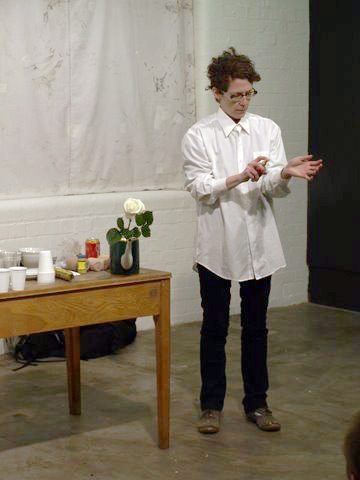 Figure 3: Shannon Cochrane: spraying perfume, 2010, performance shot,
CHAOS
; photo Jordan Hutchings; courtesy CHAOS